Tufts is one of the nation's top research universities, earning the "tier 1" classification from the Carnegie Foundation for the university's output of research activity. And as one of the smallest and most undergraduate-focused research universities with this classification, Tufts encourages faculty to collaborate with undergraduate students in a wide range of innovative research, spanning every field and discipline.
How to get involved
There are several ways to get involved in research at Tufts. Over 60% of our students participate in research while completing their undergraduate degree. Research ranges from lab experiences to archival investigation, and students are encouraged to start their research journey as early as their first year. Simply find a professor whose work interests you, connect with them during their office hours, and see if their lab or research group is a good fit for you! There are also a variety of funding opportunities for independent research, so if you have an idea of your own, you can pursue it - on campus or across the world! One such opportunity is the Summer Scholars program which funds rising juniors and seniors to pursue ten-week independent research projects. Scholars spend this summer working closely with a faculty mentor and a cohort of like-minded peers from across Tufts' academic disciplines.
Undergraduate Research and Scholarship Symposium
The annual Research and Scholarship Symposium is one of the best ways to experience the range and depth of Tufts undergraduate research. At the symposium, students share their research with each other and the Tufts community.
What does research look like?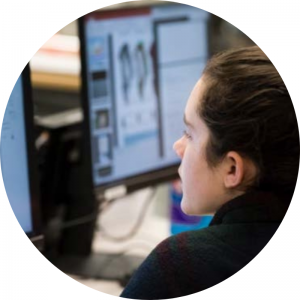 In Dr. Stephanie Badde's Multisensory Perception Lab, Jared Lee, Madeline Dumont, and Jordana Raich are dedicating part of their sophomore year at Tufts to using psychophysics, eye- and posture-tracking, and machine learning to research interactions between the senses. Undergraduates in the lab come from backgrounds ranging from biopsychology to computer science to studio art, each bringing their own strengths and backgrounds to their research while learning some new skills along the way.
"Exploration on the Use and Combination of Unconventional Painting Materials" is an ongoing project by a student at the School of the Museum of Fine Arts. The project tells a story of culture and ancestry and utilizes research as a basis for fine art. Background research involved conducting material tests with unconventional painting materials and fillers in the form of Hebrew letters, which she then photographed in nature.
Through the Children's Television Project, undergraduate students participate in impactful, longitudinal research on representations of gender, race, ethnicity, and age in the media kids consume every day. Students scan through episodes of shows like Legend of Korra, Adventure Time, and Arthur for a variety of characteristics exhibited by major heroes, villains, and sidekicks. Besides academic publications (including several undergraduate theses), CTV research has made it into publications like Time, The Washington Post, and most recently a podcast on Indigenous voices in television.