Who did you list? Charles Darwin? Watson and Crick? Isaac Newton? The list could go on.
But what about Rosalind Franklin? Marie Curie? Rachel Carson?
If I'm being completely honest, I couldn't think of any more famous female scientists after those three and had to google "Famous female scientists"-- and I didn't even recognize most of the names that came up.
And what about famous mathematicians? I can't name a ton of mathematicians, male or female, but I know Pythagoras, Fibonacci, and L'hopital all had a Y chromosome.
And why is that? Why are STEM fields thought to be inherently "male"? According to a study done by the U.S. Department of Commerce, titled Women in STEM: A Gender Gap to Innovation, although women make up 48% of the work force, they only comprise 24% of STEM jobs.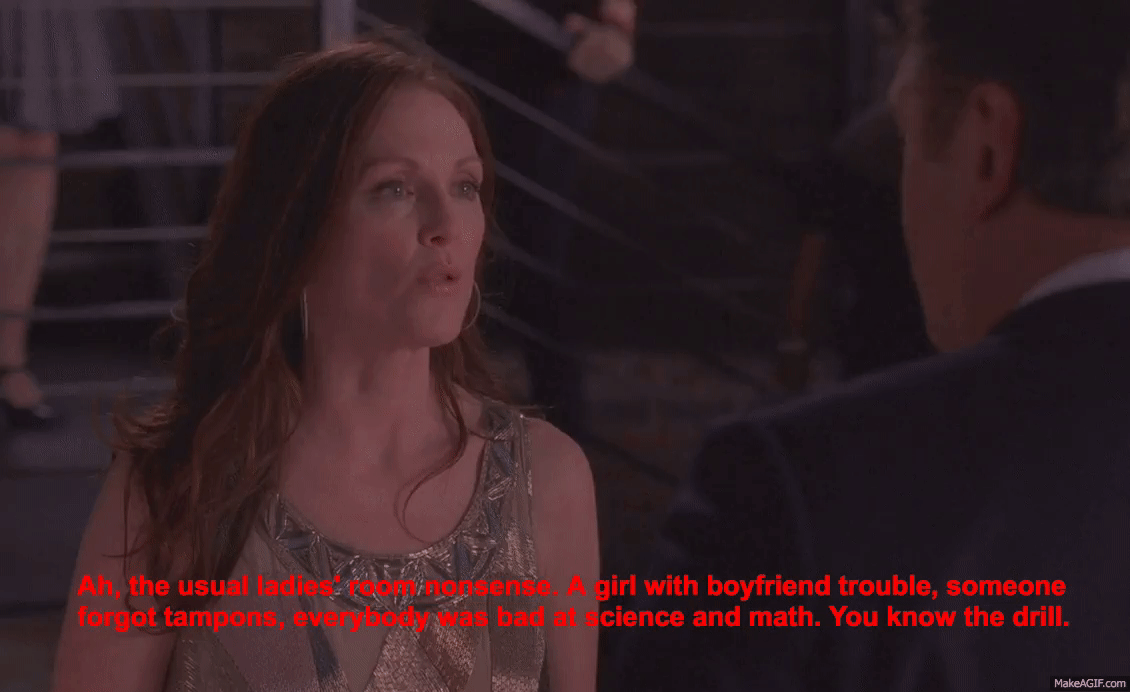 While these numbers are already disheartening, it gets worse when you break the numbers down by race. Even though women in STEM fields are a minority, the majority of that minority are white.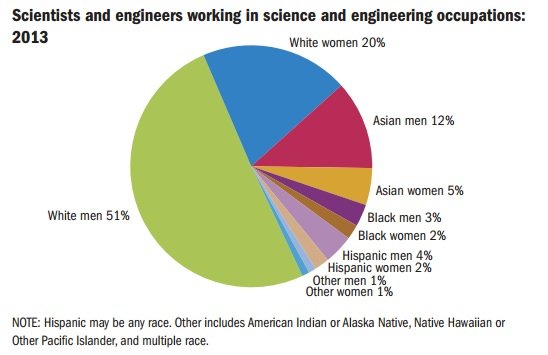 http://www.syracuse.com/living/index.ssf/2015/05/at_syracuse_university_women_of_color_in_the_sciences_blaze_a_lonely_trail.html
This discrepancy is not something that just randomly appears when women enter the workforce. This is something ingrained in us since childhood- through TV, advertisements, and the way people treat young boys and girls differently (whether subconsciously or not). Even my favorite show of all time, House, M.D. (while showcasing a number of female doctors, all of whom are well-rounded characters) has a disproportionately large number of male cast members compared to female ones. If you take a moment to think of other shows you've seen, I'm sure you can think of more examples- take Modern Family. In the show there are two sisters, one of whom is very intelligent, excels in the sciences, and gets into a top-tier college, but is constantly shamed for not having a social life, wearing "feminine" enough clothing, or having social skills. The other daughter, who is portrayed as ditzy and unmotivated, is popular, always has a boyfriend, and leads an incredibly social life. This not only perpetuates the pressures for girls to dress and act a certain way in order to feel included, but goes even farther to imply that being a smart female makes you unlikeable. Which one do you think young girls would rather be like- the girl who has lots of friends and is always having fun, or the girl constantly studying only to be mocked? While this show is a comedy, and many times uses these stigmas to make a point, it could be easy for a young girl to misinterpret the jokes and only pick up on the stereotypes. (That said, the actress who plays the "nerdy" girl, Ariel Winter, is pretty awesome from what I can tell)
Even if you can get past the images that are portrayed through television, there's still the notion that females need to be more careful or "ladylike" than their male counterparts:
Why is it that at summer camp in middle school, while introducing ourselves with a fun fact, one girl elicited a cheer from the group by introducing herself as "Hi, my name's _____, and I hate math"?
Why is it that I was one of 3 females in my AP physics class in high school, and that it was considered an improvement from the year before?
Why is it that I can walk into calculus three days a week and only see a handful of other women?
Why is it that my lab partner this year felt the need to google "mode of sex determination in fruit flies", even after I told him I worked in a fly lab and knew that it was an XY mode of inheritance?
Eileen Pollack put it best in her piece in the New York Times magazine when she said "As so many studies have demonstrated, success in math and the hard sciences, far from being a matter of gender, is almost entirely dependent on culture — a culture that teaches girls math isn't cool and no one will date them if they excel in physics; a culture in which professors rarely encourage their female students to continue on for advanced degrees; a culture in which success in graduate school is a matter of isolation, competition and ridiculously long hours in the lab; a culture in which female scientists are hired less frequently than men, earn less money and are allotted fewer resources."
Even after successfully finishing school and obtaining a job, there are still stigmas in the workplace, as made clear this summer by Sir Tim Hunt:
"[Women] Fall in love with you and when you criticize them, they cry"
Tim Hunt later apologized for this remark, but didn't refute his earlier comments "I'm really, really sorry I caused any offense, that's awful. I certainly didn't mean that. I just meant to be honest, actually,"
It's pretty obvious that these situations are not isolated, but common in the fields of math and science. I, personally, was lucky enough to have a dad who took me out to find beetles, teach me about the Hubble Telescope, and is always eager to hear about the research I'm doing at college. (If you're reading this, dad, we're going to talk all about RNAi and CRISPR over spring break!) I was also lucky to have a mom that would buy me books about women in math, and forward me articles about women scientists in Lego's "Research Institute" line. I have also been lucky to be encouraged by my peers and professors to pursue a career in the sciences. One of the first things some professors have asked me was what I plan to do after college- inquiring if I wanted to go onto graduate school, medical school, etc. Of all of the math and science courses I have taken at tufts so far, two-thirds of my professors have been women. BUT, as a biology major, I'm also more likely to have women in my classes and more female professors than someone in physics or chemistry, so my experiences are likely to be skewed. Tufts has a center for STEM diversity and a Society of Women Engineers which hopefully encourages more women to apply and stay in the major, as only 1/3 of engineers are women.
These numbers are not going to change until we change the way we think. We need to start encouraging girls the same way we encourage boys and provide them with the support, opportunities, and role models that the boys get. When it comes down to it, when we discourage females from participating in STEM, we are discouraging half of the community, half of the workforce, and half of the brainpower from contributing to an important and rapidly growing field. And why would anyone want to do that?