Hi, everyone! Recently, I was asked by a few members of the Office of Undergraduate Admissions to write up this year's guide to applying as a Tufts transfer. This makes enough sense; after all, my blog is entitled "Transfer Files." But before I sat down to write what will hopefully be a truly helpful and reassuring list of advice, I was worried about the scope of my wisdom. My experiences are unique to me, as yours are to you. If you're applying as a transfer applicant or considering doing so at the moment, you might have some questions that this post will not sufficiently answer. In that case, I encourage you to send me an e-mail at sabrina.mcmillin_lobo@tufts.edu. So far I've already gotten a few e-mails from transfer applicants, and I promise that I'd be delighted to set aside some time to answer your questions.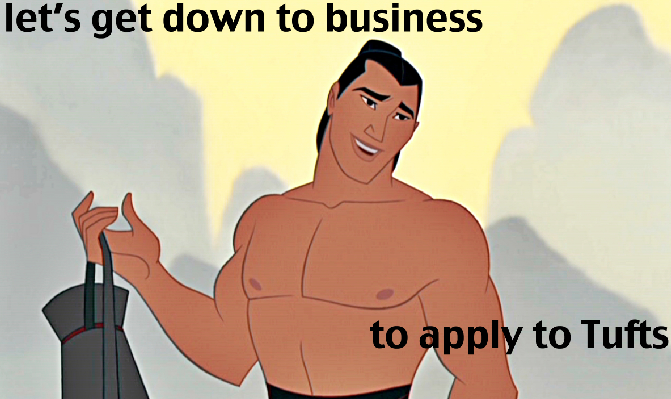 1. Learn the Paperwork
Disney references set aside, transfer applications are a serious undertaking. You may have mastered the art of applications during your senior year of high school, but I fondly refer to transfer paperwork as an entirely different species in the genus of college applications. Long before your personal deadline for submitting everything, make sure you take a look at all of the application requirements. The Tufts supplemental essays appear easiest, with straightforward prompts that are easy to comprehend. The Common Application paperwork, on the other hand, is where it can get a bit tricky. I recall many different sheets that needed to be filled out by my professors and university administrators at the time, such as a mid-year report and a form signed by my dean. Things got even more complicated when the Common Application wanted my high school transcript and a recommendation from my former guidance counselor. While many high schools may be used to having their alumni return to fill out these forms, I had a hard time dealing with the bureaucracy surrounding my own, so be sure to contact your high school as soon as possible. Be polite, while stressing the necessity of any high school forms.
2. Do your financial aid!
While most universities don't seem to use this system, Tufts is one of many high-ranking schools to utilize the IDOC and CSS Profile, two financial aid forms that can be completed through the Collegeboard. Financial aid forms may appear daunting, so your first instinct, understandably, could be to shirk the responsibility onto your parents. However, it is crucial that you work through this paperwork, as well as the Free Application for Federal Student Aid (FAFSA), so Tufts can determine your need-based financial aid eligibility and possibly award you grants, scholarships, and/or federal loans and work-study. The sticker price of many universities is shocking, but financial aid awards can go a long way in helping you finance a great education. I know this information might be familiar to most transfer applicants, but I felt the need to reiterate it for all those who are wary of tax forms. Shifting from the numbers and paperwork to the fun stuff...
3. Before you worry about what to write for your essays, check out some of these videos.
Although they were included in the 2011 transfer guide, I'm linking to a few Tufts resources because when I first saw them, I felt a boost of confidence in myself that allowed me to fully articulate who I am without the fear of rejection sitting on my shoulders.
4. Relax and forgive yourself for past mistakes.
For every person who feels confident enough that they'll likely be admitted (lucky you!), I'm sure there are many of you who are scared that your application fee will have been all for naught. Right now, I am doing very well here, after having finished my first semester on the Dean's List. Last year, I was one of you. Although I had a decent GPA and had successfully gotten involved in a few extracurriculars on my old campus, I considered my high school grades to be a bit questionable here and there. My overall GPA was good, but I had a few bad grades, like a 70 on my pre-calculus final and a 2 on the AP Government exam. (This is particularly embarrassing as a political science major, but ironic as well, since I aced the Tufts equivalent, Intro to American Politics!) Even though I achieved a 4 on the AP US History exam, I received about a 560 on the SAT Subject Test for U.S. History because I got bored studying and decided to watch Pocahontas instead. (Don't watch Disney movies in lieu of studying for history exams...)
My point is, Tufts is competitive and most of its incoming students have stellar academic records, but I believe part of my academic appeal was that I improved my grades after starting college. High school transcripts are still a factor, but showing you can recover from past mistakes and excel in a college setting are major advantages if you're applying to transfer.
5. The Tufts Admissions Counselors are amazing. Don't be afraid to show them who you are.
This isn't to say, "Show them the keg stand you're not supposed to be doing because the drinking age is 21, young person!"
Rather, write down a list of attributes or factors that you believe define you. The supplemental essays are not a place for you to talk more about your grades; your transcript and test scores are enough evidence of those achievements. Discuss your life. The two things I remember most were discussing my life as a secular humanist while having grown up in a Catholic community, and my part in an online community called Nerdfighteria, comprised of people who fight for charity and goodness, with some sweet 'n nerdy style. I kept it real, and I didn't do too much editing, besides checking for grammatical errors. Which reminds me...
6. Edit things. Spell check them yourself, because word processors might miss things that the human eye can catch.
Before I wag my finger and continue to spew advice that might just apply to any college applicant, I'll call it a night. But as I said before, I love emails from transfer applicants and would be glad to discuss anything not covered here.