I worked in the emergency department of a hospital this summer and learned a lot of things-- how to differentiate all the different hospital personnel by the color of their scrubs, how many milliliters of epinephrine you push when a person is in cardiac arrest, and most importantly, how to find parking in the city.

I realized after my first day that being in the hospital is surprisingly similar to being in college: there are always students walking around, lots of people sleep through half of the day, and there's an ungodly amount of Purell being thrown around. And since hospitals are so similar to college, I thought some of the lessons I learned there could apply to college life, too.

1. People will love you if you bring them food.
Much like college students, hospital patients don't have access to a lot of good, homemade food. And while I never actually tried the food at the hospital, it was a lot of microwaved meals that were quick and easy to serve to patients. BUT, there were pudding cups, and you should never underestimate the power of pudding cups; that's how friendships are made. Nothing beats seeing someone's face light up as you bring a tray of food- pudding included- into their room. Food is always a good idea, whether you're a freshman trying to make new friends or an upperclassman trying to bribe old friends to come to Tisch with you.
**I would like to take this time to give a friendly reminder that most of college is BYOPC (bring your own pudding cup) so stock up before move-in day!**

2. A little kindness goes a long way
When you're a patient or family member of a patient at a hospital, there's not a lot you can do but wait around and maybe worry. You'd be surprised how happy people become if you just talk with them, bring them a blanket if they're cold, or maybe a pudding cup (it always comes back around to the pudding cups-- I don't make the rules, I just follow them). The same goes for college- text your friends in the morning to make sure they're awake in time for that 8am class, thank your teachers after their lectures, or leave a note of encouragement for your roommate on the morning of a big midterm.

3. People don't really know what they're doing.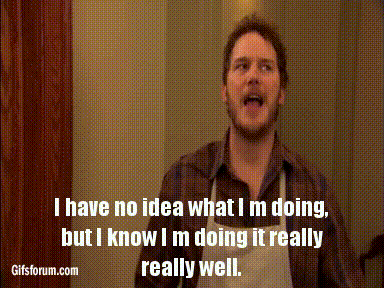 At the end of the day, people aren't always sure what's going on or where they're headed next (unless you're a doctor or nurse, in which case you've definitely got a good handle on what you're doing I hope). How many people do you think come into freshman year knowing exactly what major to declare? How many people do you think have a solid idea of what career they want to pursue after college? Not many- and that's okay!! One of the worst parts about being in a hospital is actually one of the best parts of college: not knowing. As someone who loves planning (I may or may not keep 4 different calendars but that's a different story), not knowing what to expect in the future can be frightening until you realize all of the opportunities this opens up for you. So maybe you don't come into college knowing that you're going to be a lawyer or a doctor. Congrats! You get to take advantage of all the opportunities a liberal arts college has and just explore what makes you happy. Honestly, Andy Dwyer had it right- you may not have a clue what you're doing, but if you're really exploring everything that Tufts has to offer, you're definitely doing it well.
As interesting as the ER is, I couldn't be more excited to get back to Tufts, hopefully with minimal visits to Health Services. There's less than a month left until freshman orientation starts, so get excited for all the new experiences that wait for you on the hill!