FOCUS Pre-Orientation Program
Tim Leong, FOCUS 2020 Coordinator
Welcome Class of 2024!

I need your undivided attention. That's right, I'm talking about FOCUS: First-Year Orientation CommUnity Service.



With the pre-orientation FOCUS, you'll have the opportunity to get to know Tufts, the Greater Boston Area, and your fellow Jumbos through community service! You'll be placed in a group with seven to nine other first-years and two student leaders. Each group has a service "theme" such as Environment, Homelessness, and LGBTQ+ Advocacy. Over the course of five days, you'll go to unique service sites all unified by your theme.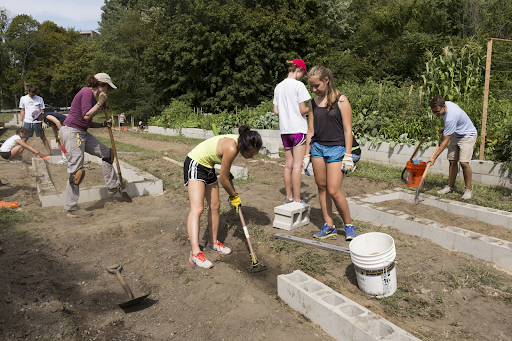 My personal experience with FOCUS was like nothing I could've imagined. I came to Tufts, like many students, feigning confidence. On the outside, I was ready for college, but on the inside, I was nervous. The energy of my two leaders, my group of eight first-years, and the unique service sites, all distracted me from my nerves.
What's so beautiful about FOCUS is that it can mean so many different things to so many different people. With that in mind, here's what members of our current staff have to say about FOCUS:

"FOCUS has an incredible way of teaching you about others and helping you engage with your community." -Ben Michel '21

"Blasting music on whatever speakers we can find and dancing around the lower campus center on arrival day is always a wonderful FOCUS memory I will have. The energy, love, and pure fun from all the staff makes me feel so lucky to be part of such a great organization and excited for the week of service ahead!" -Alekya Menta '21

"FOCUS has exposed me to so many meaningful opportunities at and around Tufts, and I've learned so much about Tufts' surrounding communities." -Nithya Badrinath'22

"My leaders were supportive and inspiring and made me feel at home in an unfamiliar place. The members of my group allowed me to share my doubts and hopes about Tufts and provided a space where I felt included and accepted." -Olivia Olafsson '23

To learn more about FOCUS check out our website, Instagram, Facebook, and TikTok! We can't wait to see you!