So yesterday was the most excited I have ever seen the admissions office. While the office has been pretty quiet the past few weeks with everyone locked behind closed doors, discussing applicants, things were immediately different when I walked in on decision day. There was a constant buzz of excitement as people wandered from office to office, talking and laughing. Matt Alander, who was possibly the most excited of anyone, spent most of the day clapping.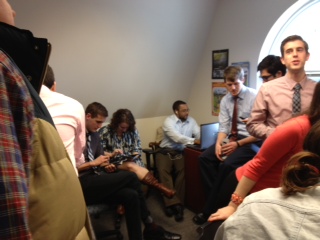 At about 3 PM, just as many of you were feverishly updating your TAMS account, desperately trying to see your decision, most of the admissions office crowded into Matt and Laura's office. Almost everyone in the room had an iPad or a laptop open, and everyone was checking all of their social media sites – facebook, twitter, the works – following along with all the applicants who were talking about their Tufts application. The music choice was stellar:
Then, at about 3:10, when the decisions finally went out, cheering broke out. Instead of comments of anxious excitement, they started to share the online reactions of those accepted to the Class of 2017. They read aloud about tears of joy, people shaking with excitement, and parents offering their compliments to the office. Even some of the admissions officers were close to tears.
While watching this whole event it struck me how human the college search process actually is. While it's easy to just look at it as a sterile system, where faceless admissions officers pass judgment on countless students, with no true interaction on either side, yesterday really hit home exactly how much the process involves real human beings. Just as the applicants are real people, with emotions, dreams and aspirations, the same goes for the officers, who cannot help but get emotionally involved in the human significance of the people involved.
So if you decide to come to Jumbo Days (which I cannot encourage you to do enough – it's the best way to find out if Tufts is the right place for you), make sure to find the admissions officer from your hometown! Chances are he or she is almost as excited to have admitted you as you are to have been admitted.