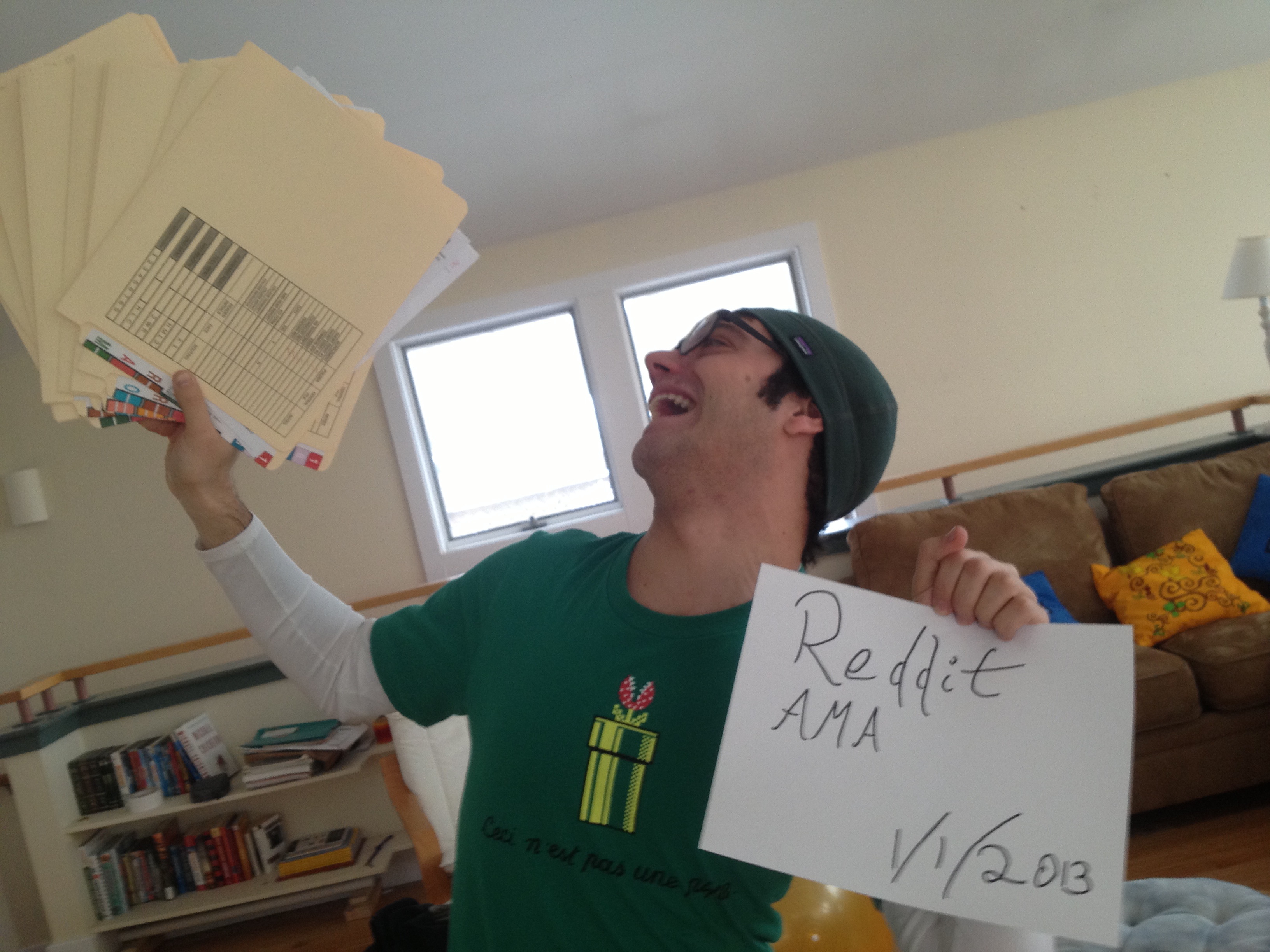 The AMA was awesome and I encourage you to check it out, but I want to expand on one of Dan's responses. The question, from Redditor kirat18, was "what insight do you have for incoming freshmen to make the most of college?"
IntheSarlaccsbelly:
My big advice for college: don't pick courses like you would in high school. At least for first semester, ignore the requirements you are allowed to ignore, and take the most badass classes you can with the best goddamn professors the school has.
The most badass classes I can? The best goddamn professors the school has? Challenge accepted.
Bonus points: all of these classes are offered next semester. For all you procrastinators, this is the light at the end of the tunnel.
EXP 30S: Sabermetrics: The Objective Analysis of Baseball (Andy Andres)
Course description: Students will discuss baseball not through conventional wisdom and consensus, but by searching for knowledge concerning the game of baseball. Hitting, pitching, fielding performance, along with other areas of sabermetrics, will be analyzed and better understood with current and historical baseball data. Students will design and implement their own sabermetric research study, learning the important concepts in statistical analysis needed to perform this research.
Why it's awesome: If you've ever thrown down a ball cap, a football scarf, or turned over a burning car (for you soccer fans) and said, "I could do better than that!" this class is for you. The 2004 World Series Champions Red Sox used sabermetrics to build their lineup, trading All-Star players like Nomar Garciaparra for "smallball" players like Doug Mankiewicz and Bill Mueller, who later became All-Stars in their own right. It's like playing fantasy sports for credit. What's not to love?
EC 127: Urban Economics (Anna Hardman)
Course description: "Development of modern urban areas and the application of economic analysis to the problems of location, transportation, housing, racial discrimination, public services, and finances."
Why it's awesome: How do cities develop? How should they develop? How can we make living in a city more efficient and more equitable for everyone? It's a small, discussion-based course on the way cities function – in terms of people, trains, buses, buildings, and all the things they produce – viewed through an economic lens. And it has only one prerequisite. And Anna Hardman is teaching it. Sold.
EXP 24S: Transporters, Force Fields, and Death Stars: Engineering in Science Fiction (Brian O'Connell)
Course description: Want to enjoy lunch in France? Teleport to Paris for escargot.
Hate snowball fights? Build a force field to protect yourself.
This course will examine the possibilities of such impossibilities through the analysis of science fiction, a genre that fosters an appreciation of science, technology, creativity and literature. The works of Gene Rodemberry, H.G. Wells, Jane Espensen, Isaac Asimov and others who utilize various technologies as plot devices to advance the story. Whether by jumping from one star system to another faster than the speed of light, encountering robots making emotional decisions, or escapes using stealth systems in broad daylight, the technology showcased is fantastic and seemingly impossible. We will discuss some of our favorite depictions of advanced technologies, their plausibility, and how their fictional works have inspired real-life technological creativity.
Why it's awesome: Ummm… yeah. Death Stars. If you don't know about the ExCollege, you should definitely check it out.
ENG 172: War and American Values (Ichi Takayoshi)
Course description: Seminar on the relation of war to US culture and society. What values are Americans defending? What are they defending them against? In what respects are they vulnerable? The class will consider these questions through close analysis of literary texts, images, cultural criticism, political and military documents, and religious texts.
Why it's awesome: Ichi Takayoshi is an amazing professor (anecdotally; I've never had a class with him) and this small seminar class allows anyone who has fulfilled the writing requirement (which is very easy to do – many freshmen matriculate with it filled) to explore the values behind war. Tufts' balanced liberal/conservative divide and active political climate make this an even more interesting class because of the huge potential for debate.
SWA I or II: Elementary Swahili (Daniel Brown)
Course description: Essentials of Swahili grammar, vocabulary, syntax, and usage. Emphasis on active command of basic spoken and written Swahili.
Why it's awesome: Tufts' language requirement is notorious, so why not fulfill it with a language in which "hakuna matata" really does mean "no worries"? I promise, The Lion King will never be the same. Plus, the professor is amazing and even more engaging than language professors normally are (which is a lot).