No, that's an exaggeration. But a 36-hour food tour across Hong Kong Island? Challenge accepted! Here is how I ate my weight's worth of Cantonese food in a day.
(Disclaimer: the names of the foods are all directly/loosely translated from Cantonese to English because I don't know what they're actually called of if they have a name. I feel like we have a close enough relationship that I don't have to be embarrassed for it
--
10:30am
Woke up fully refreshed to start eating. I think the thought of having yumminess all day is better than any alarm that I could possibly have (I wonder if someone will invent an alarm that uses smell as a stimulus instead of sound one day…). From there, I hopped onto a tram to go to the western most part of the island for a Pineapple bun (???).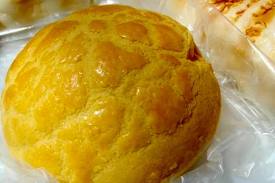 The Pineapple bun is something I grew up eating, as most Cantonese kids probably grew up eating as well. Ironically, the bread doesn't have a trace of pineapple on it. Rather, it's just that the top is crusted with crispy custard that makes the bun resemble a pineapple. Or so people claim…Truthfully, I never saw the resemblance but regardless of whether it looks like pineapple or strawberries or pickles, nothing beats a piping hot pastry paired with warm malt Vitasoy for breakfast.
11:30am
While I ate my breakfast, I sat on the top deck of the electric tram and rode it eastward. Riding the tram is one of my favorite things to do in Hong Kong. There's something incredibly soothing about rugged bumps and turns on those electric tracks stretching across the city from one end to another, and observing the bustle from afar. There's calmness to it, a way to breathe in it. Also, there really is no better way to see the entire city.
I reached Causeway Bay around brunch time, or, just in time for me to finish my breakfast and start the second meal of my day: Fish-balls and rice noodles. Tucked away under a bridge, next to the old ladies cursing their husbands and enemies, is my favorite noodle place, one that I always go to at least once per trip, rain or shine. I've been here so often that the owner recognizes me and knows my order by heart, and it's a tricky one.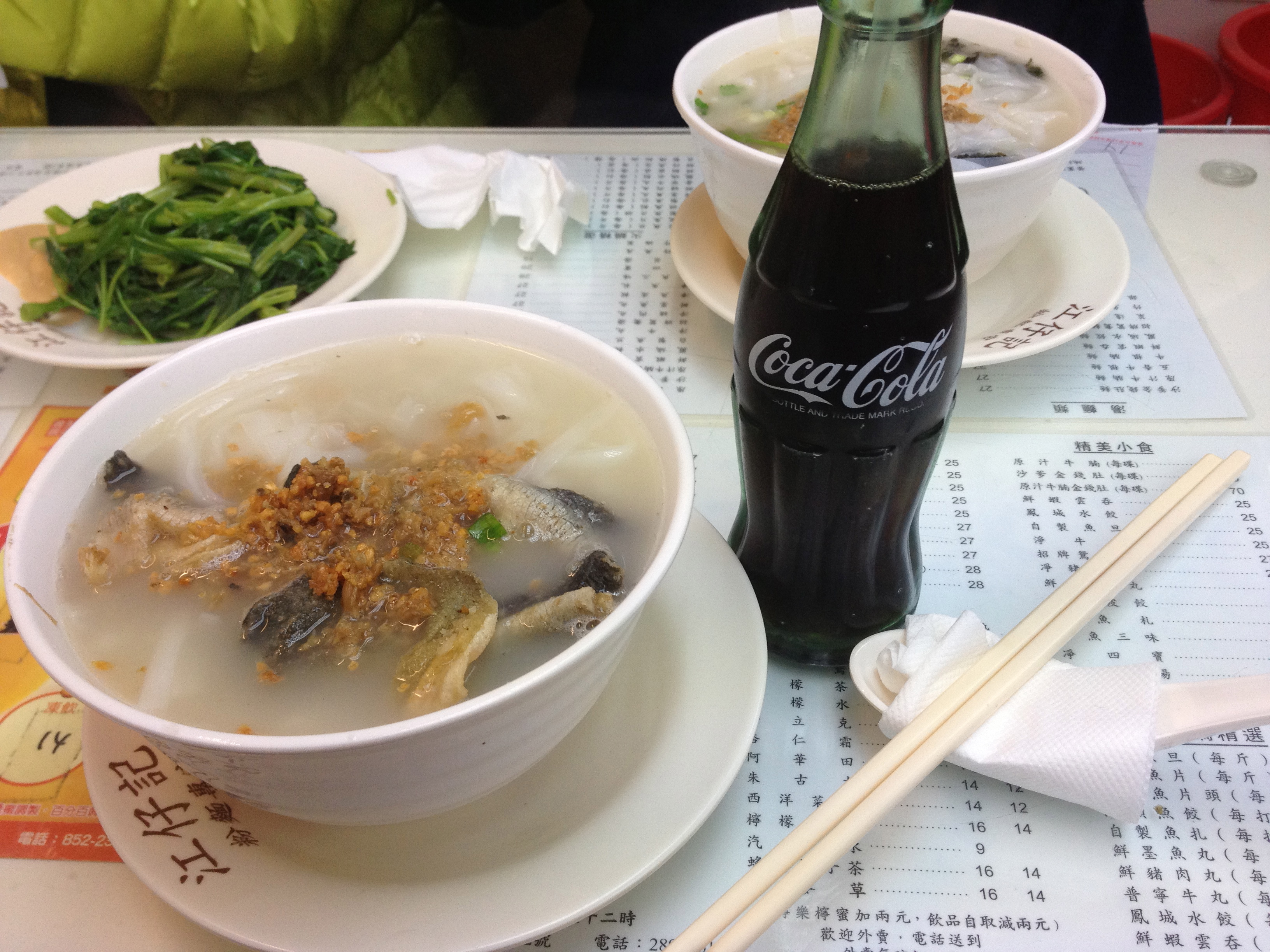 (If you ask my friend, he'll tell you that I'm high maintenance and I order like Sally does in When Harry Met Sally.)
Usually I skip out on soda with meals but for some reason, glass-bottled soda always tastes infinitely better than fountain soda or even from a can and I just cannot resist. Maybe it's the ratio of bubbles to liquid or it's the effect of being in Hong Kong or it's all in my head. (Tell me I'm not the only who thinks so please? >< ). The fishballs, well, they're delicious, especially when you dip it in fresh homemade chili oil and let it all burn. Pieces of fried fish-skin soaked up the soup and became the perfect garnish to the fish-stock.
In short, I really, really miss fish.
11:53 am
If Hong Kong could be summarized in a word, it is efficient. The city is efficient to a point where meals can be made and prepared in less than five minutes, and you're out and done with the meal strictly within 30 minutes so that the table can be turned over to the next batch of customers. To prevent from getting evil glares from people waiting in line, I slurped down my soup, paid the bill and proceeded to my next checkpoint, which I guess would be counted as lunch.
Around the corner next to Time Square (Hong Kong has an Asian version of Time Square. Significantly smaller than the one in New York but just as blindingly bright and energy consuming), is a street food stand that makes delicious eggy-pancakes. Yes, I did say eggy because the cute-ness level needs to be reflected in the name.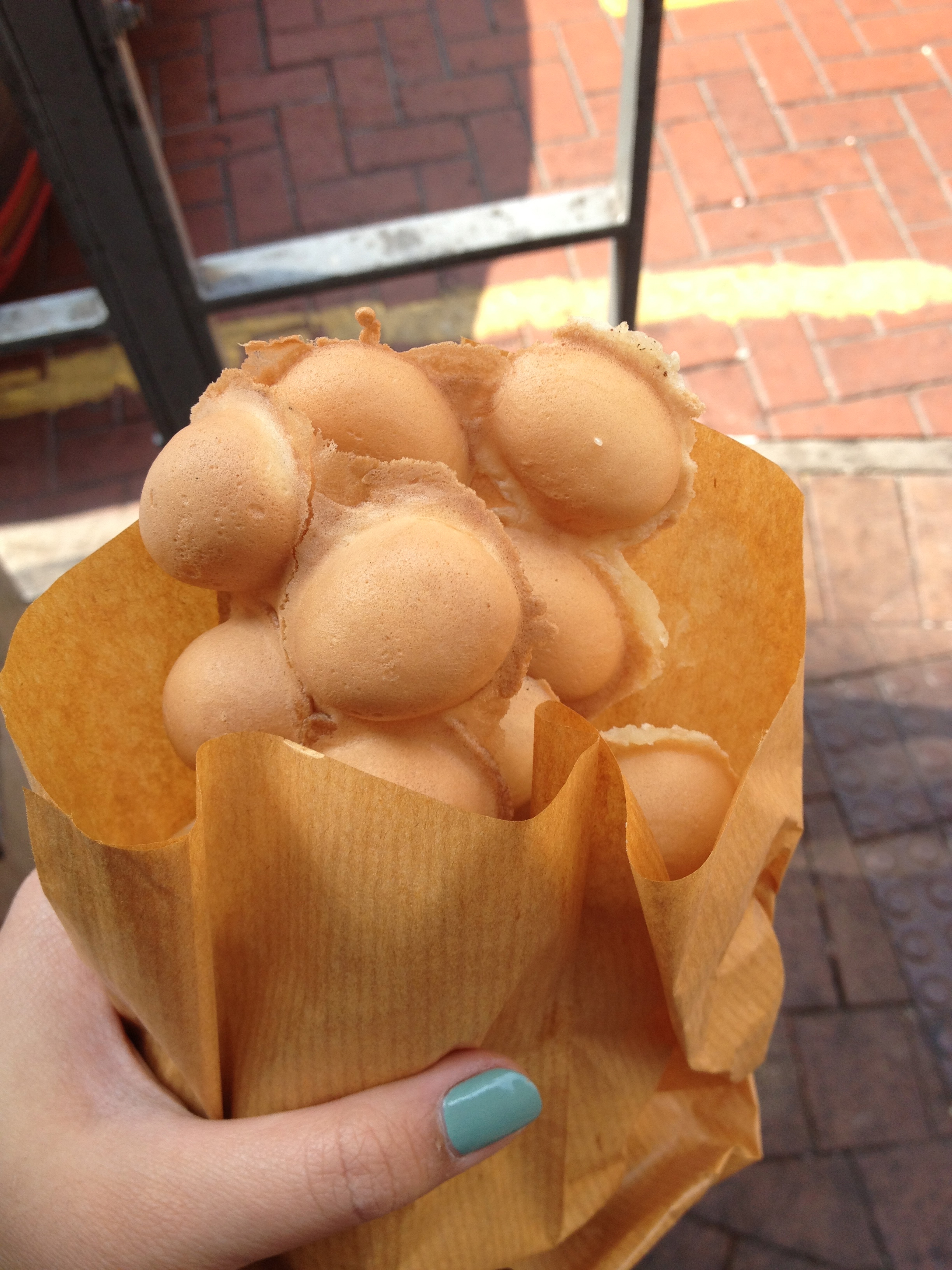 Basically, if it's well made, the crust is crispy and the middle is chewy, overfilled with an aroma of coconut and milk. As you bite into the eggy, it will collapse within itself for that extra crunch. If someone could post smell as a part of this blog, I would go out of my way to do that for you. But for now, at best, this is what I can do.
3:30pm
Walking around the city and wandering in and out of malls, I let my food digest as my intestines and stomach worked their magic (the bio-nerd in me really wants to start spewing facts about gastric acid and duodenums but I won't). By this time, I've walked the equivalent of three subway stops and arrived at North Point or the suburban part of the city. Here, between a livestock market and an elementary school is one of the three chain restaurants of what I believe to be some pretty darn good dim sum. While most people eat dim sum in the morning or for lunch, I was a rebel (actually, I just wanted to avoid the lines) and ate it for afternoon tea.
The tea was boiling. And that, my friend, is how you can tell you're at a great Cantonese restaurant.
Because it was just me alone, I could only order shrimp dumplings, radish cake and barbecue pork buns; even then I stuffed my face full with deliciousness.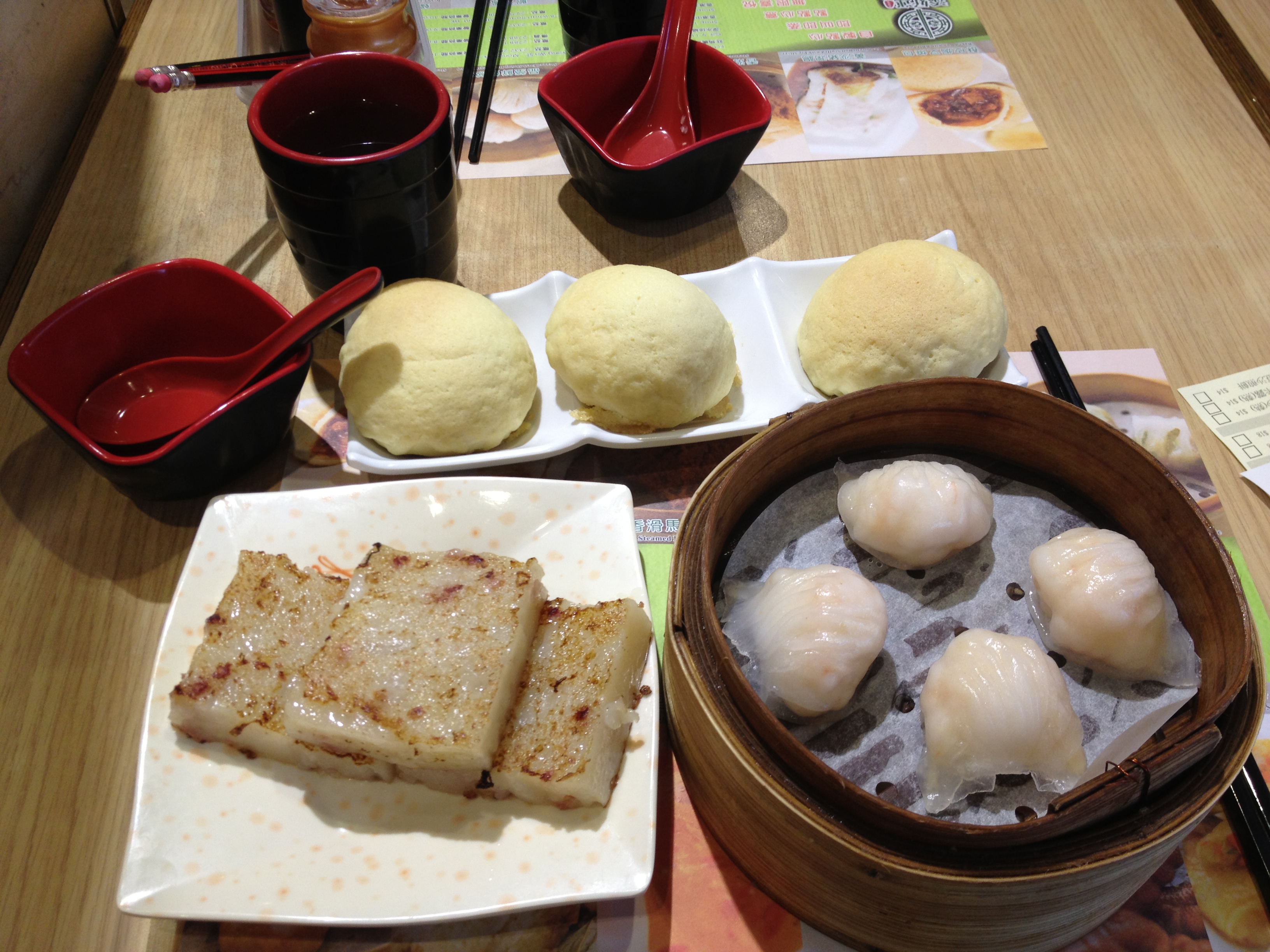 7:12pm
Between tea and dinner, I had several snacks in between, walking from food stall to food stall and sneaking in sips of bubble tea. For dinner, I had migrated back to Causeway Bay to meet up with my aunt, uncle and cousin to eat clay-pot rice, which is exactly what it sounds like. Raw rice grains and water are put into a pig-lard lathered clay-pot and cooked with chicken, sausages, mushrooms or whatever else you want to put in it. The aroma of the sides sink into the rice and at the end sits in front of you an incredibly hearty dish. It was another one of those restaurants that had a ridiculous following, having to book at least a night in advance to avoid waiting three hours for one of the eight tables.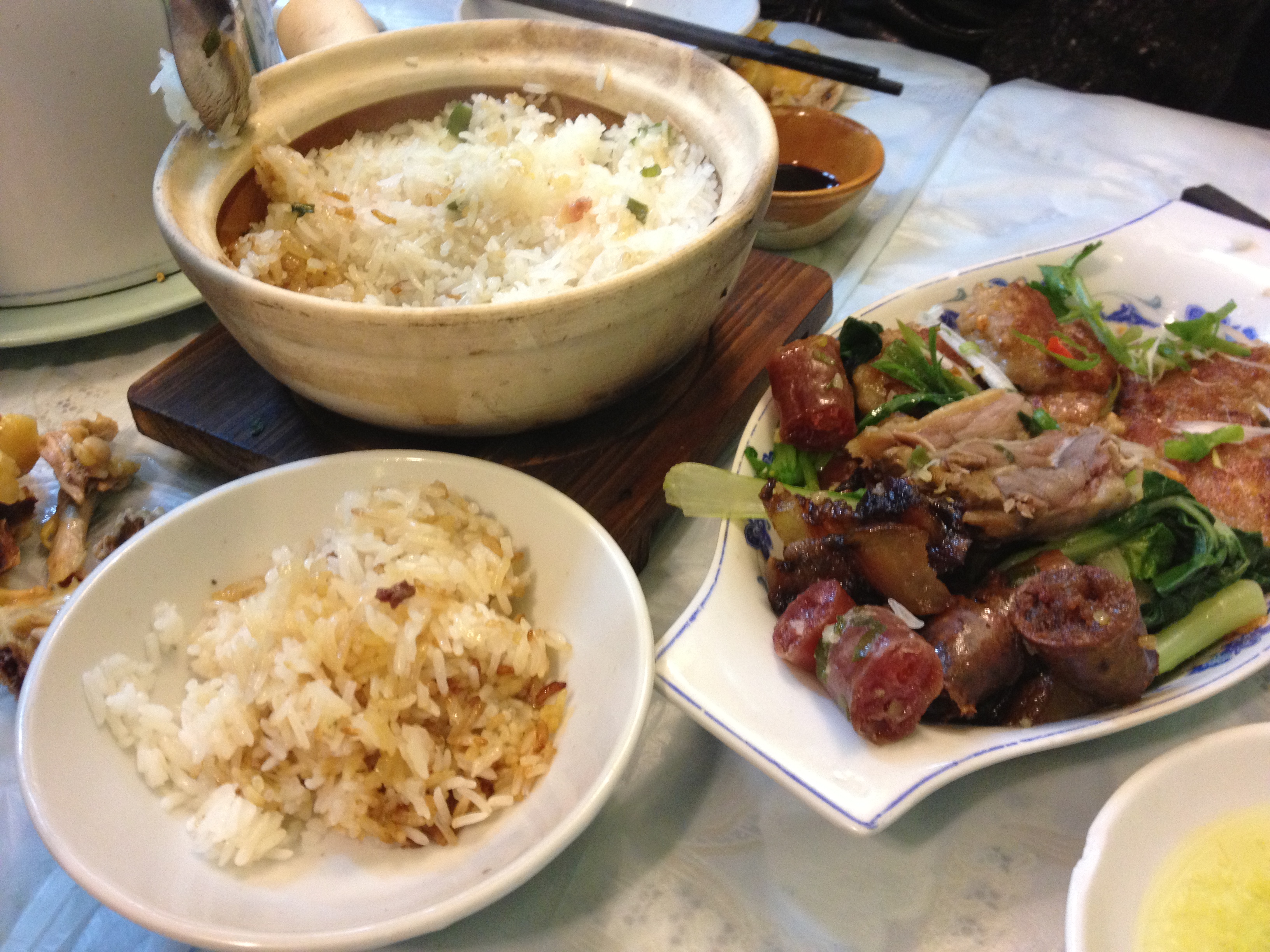 But boy, was it worth it (I know I'm saying that a lot but I mean it…every single time).
8:45pm
And then there was desert. Even after eating consecutively for a good ten hours, I still had room for, not one, but two deserts.
The first was ice cream made on the spot. I never thought I'd be able to have fresh made ice cream ever in my life. But there it was, a mixer filled with custard and bread crumbs, reacting to a wave of liquid nitrogen. It looked like a scene out of a fairytale (if this fairytale was written about ice creams…they ought to have done something like this by now). Though a little pricy ($6 for one scoop), I tried the ice cream version of lemon meringue pie and PB & J. You would think that those taste absolutely absurd but sometimes absurdity is wonderful.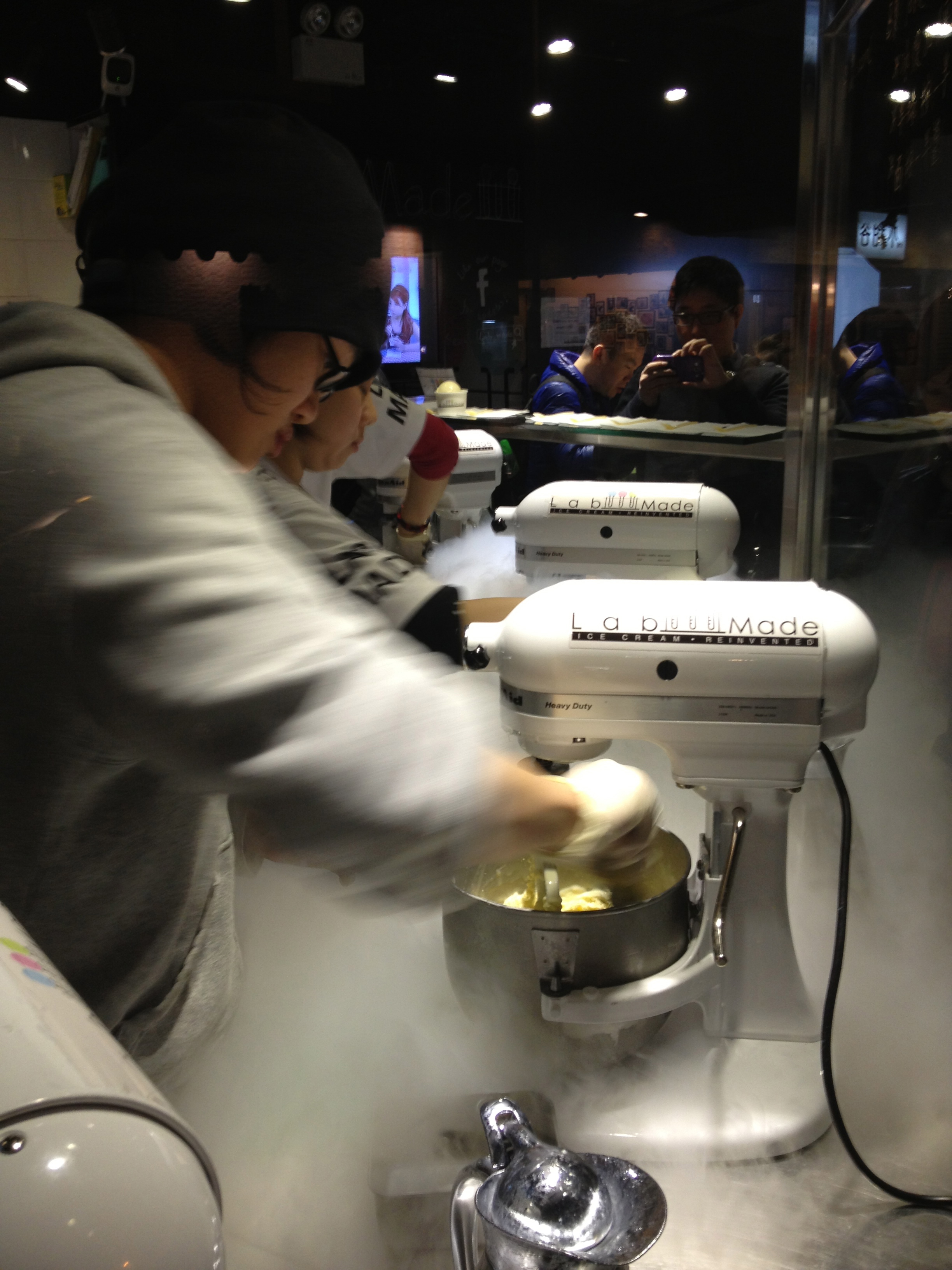 Desert number two was a traditional Cantonese desert filled with mango, grapefruit and sago. Truthfully, it was like drinking the richest mango soup/smoothie possible yet having the sweetness of it is dispersed by the tanginess of the grapefruit.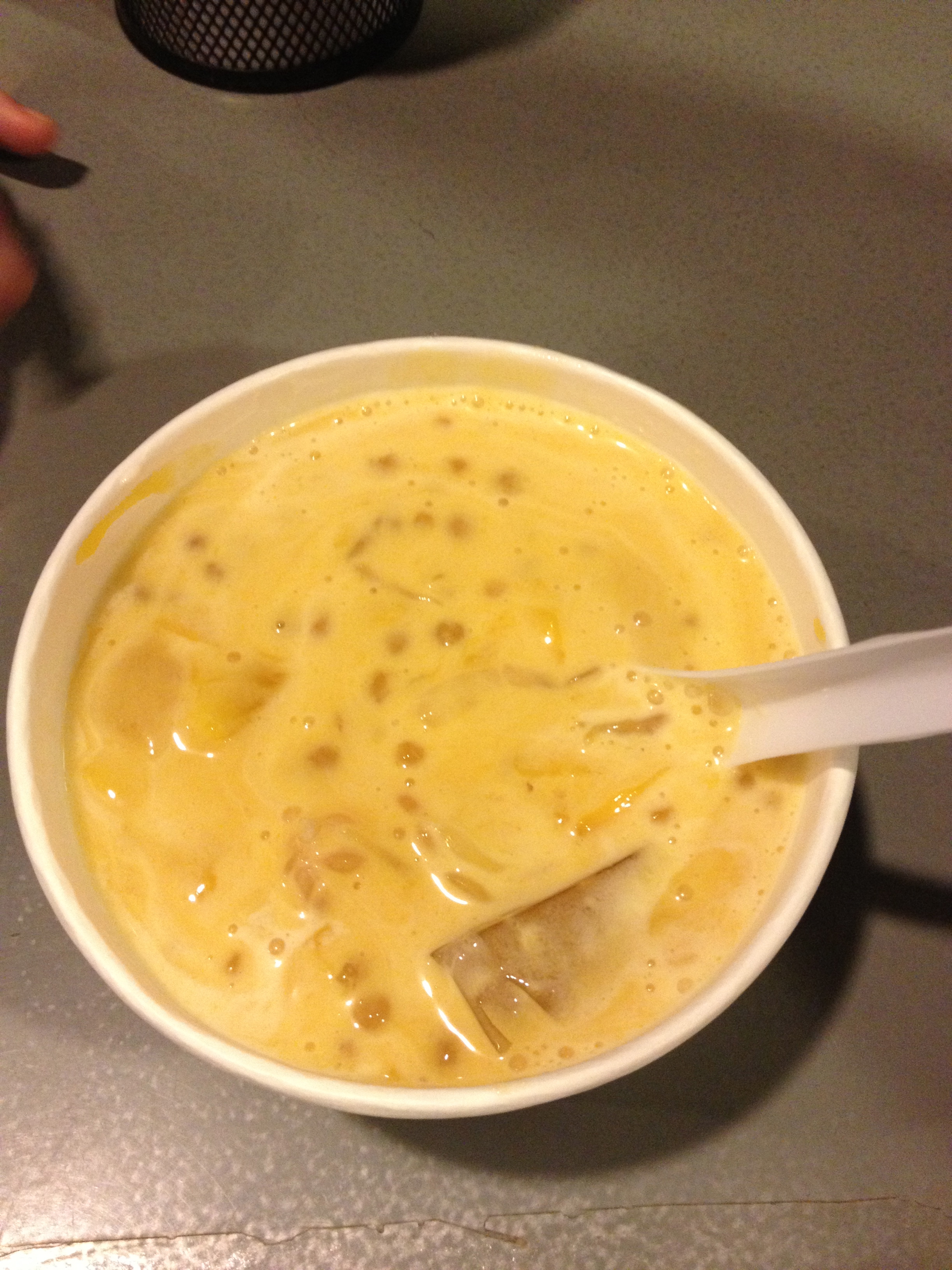 --
Wow, this post got a lot longer than I anticipated…but I started talking about food so I shouldn't really expect anything less than me rambling on about what I think is yummy.
Dear readers, how I would have loved to show you around and let you taste what I've written, because what I've written does not serve any of these places their deserved justice. So if you've ever in the area, or plan to visit, PLEASE contact me and I'll map out a food tour designed perfectly just for you.
Until then, let's eat!