From 1929 graduate and Black American Music pioneer Jester Hairston, to 1986 graduate and 4-time Grammy Award winner Tracy Chapman, to recently Coachella-booked alums Crumb, Tufts has an extensive history of musical excellence. Backed by a strong and dedicated music department with course and ensemble offerings ranging from concert choir to African drum and dance, musicians at Tufts cover an ever-expanding collection of instruments, genres, and creative styles. The following collection of student musicians, bands, and audio engineers have each taken it upon themselves to carve out their own space to do what they love to do at Tufts.
GAM: GAM fuses silky smooth keys with R&B guitar riffs and funky rhythm sections to create an original NeoSoul sound. The group switches seamlessly between deep grooves and soft, catchy ballads. Drawing inspiration from Stevie Wonder, Frank Ocean, Anderson Paak, Vulfpeck, and Tom Misch, GAM is pushing the needle of modern Soul music. Formed in 2018, the band features young, yet seasoned musicians who have toured with artists such as Jason Mraz, and shared the stage with Rap icons, Run-DMC. GAM prides themselves on their tight and precise live recordings and shows.
Listen to Gam's EP Moments and Spirals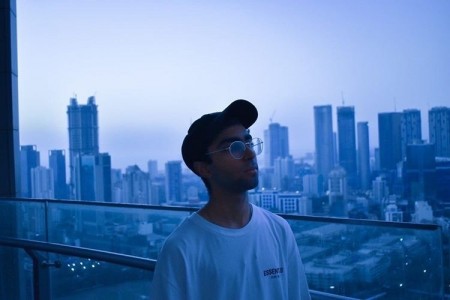 Mizuchi: Varun Kapadia (A'22) (he/him), also known by his stage name Mizuchi, is a producer and rapper from Mumbai, Maharashtra India. Mizuchi, an autodidact, started producing beats and releasing original rap music at the age of 17. He has since been featured on Vh1 India as well Spotify's "Sound of Mumbai" and "New Music Friday: India" playlists. Inspired by the likes of Jon Bellion, J Cole, Kanye West, Petit Biscuit, and Amine, Mizuchi's ultimate goal is to put India on the global hip-hop map.
Listen to Mizuchi's new single "Morphine"
The Freshman 15: The Freshman 15 is Tufts' first student-run Jazz big band. Led by Benjamin Lanzi (A'23), and composed entirely of students from the class of 2023, the ensemble strives to deliver energetic and fun big band music to listeners from all backgrounds on Tufts' campus. The group performs unique arrangements of classic Jazz standards as well as original compositions.
Check out the Freshman 15 in action here
Kiarah Alexa: Kiarah Hortance (A'21) (she/her), also known by her stage name Kiarah Alexa is an AfroLatina singer/songwriter and producer from Salem, NH. As a Music, Sound, and Culture major with a concentration in musicianship and advocacy, Kiarah effortlessly blends her passion for music with her powerful voice and message to be an agent for change and community uplift. Her music is rooted in Alternative-Rock and Alternative-R&B, while her lyrics tell confessional stories of introspection and self-discovery.
Listen to Kiarah Alexa's debut EP Ungrateful
Housecat: Housecat is a collection of Tufts upperclassmen studying a variety of subjects from computer science to film. From their beginnings in the Fall of 2018, Housecat has been playing, writing, and performing together. A band seven strong, they leverage numbers and utilize a variety of musical textures to guide their audiences on journeys through sound. Each Housecat performance is a unique and singular experience, and the band is constantly searching for new ways to channel their artistic energy.
A quarantine update from Housecat
Plant Prophet: Deep from the depths of Atlanta's creative scene comes Steph Rinzler (A'22) (they/them), otherwise known by their stage name Plant Prophet. Inspired by Stereolab, Broadcast, Cortex, and Tufts Alums Crumb, Rinzler's music is light, dreamy, and effervescent. As a solo artist, Rinzler released their debut EP "I Speak for the Trees" in July of 2019. Later that year, they teamed up with fellow Atlanta native Josh Hughes to join his solo project Stevie Dinner. The band recently signed with Danger Collective Records and boasts over 70,000 monthly listeners on Spotify. Stevie Dinner's new album is expected to go live this Fall and they hope to go on tour once public health permits it!
Check out Plant Prohpet's latest release "Plus One"
Alex Friedman: Trained and well-versed in the complex arts of producing, recording, and audio mixing, Alex Friedman (A'22) (he/him) likes to think of himself as a resource for Tufts bands looking to bring their musical visions to life. His coursework, along with his position on the Tufts Music Event Technical Staff have been instrumental in providing him with the knowledge and practice necessary to become Tufts' go-to recording and audio engineer. Many of the bands he has recorded have been classmates that turned into friends during the recording process. His most recent project, "Moments and Spirals" by GAM, has seen more than 100,000 plays on Spotify, and he is looking forward to the imminent release of Housecat's debut EP.
Check out Alex's work with GAM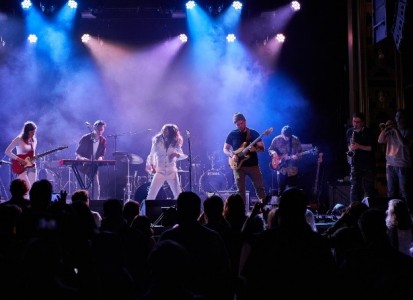 Veronica Stewart-Frommer: Veronica Stewart-Frommer (A'22) (she/her), balances her life at Tufts with touring as the lead singer of the band Melt. A lifelong singer and songwriter, she started the band with co-founder Eric Dickstein in 2017 at the end of high school. Only weeks after they formed, Melt won a battle of the bands which they used to record and release their first single, "Sour Candy." The song quickly went viral on Reddit and reached #5 on Billboard's U.S. Viral 50 chart and #6 in Canada. It now has over 4 million streams across platforms. Melt has continued to grow in unconventional ways, periodically releasing singles that they record in between semesters. Driven simply by a love for what they do, each show is different from the last, keeping their passionate, label-defying fan base on their toes.