Alright, now that we've gotten the big boys (Best Picture, Actor, Actress...) out of the way (Peep my last blog post if you missed it: 2013 Oscars - The Big Boys), lets take a look at some of the deeper cuts as far as the Oscars go. I'll try not to talk about movies that aren't nominated or gush about The Master that much this time, but no promises.
Best Animated Feature
Brave
Frankenweenie
ParaNorman
The Pirates! Band Of Misfits
Wreck-It Ralph
Who Should Win: Wreck-It Ralph, baby. All the way. By far the most visually stunning and delightfully heartfelt animated movie of the year. Some complained that the movie spent too much time in "Sugar Rush," a candy-themed mini-kart racing game, but if you ask me a world that's jam-packed with nothing but the most teeth-melting scenery and enough sugar to make Willy Wonka sick is pretty cool. Besides the visual aspect, Wreck-It Ralph was not only hilarious but had just enough heart to make you leave the theater feeling like a kid again. And that's quite an accomplishment if you ask me.
Who Will Win: Who knows? No Toy Story movie this year so it's anyone's ballgame, but I would say that Wreck-It Ralph, Frankenweenie and ParaNorman are the frontrunner. I'm going to get really mad if Brave wins because Brave was not good at all. "Oh look! A animated movie with a red-headed girl who refuses to conform!" I did not enjoy Brave.
Best Foreign Language Film
Amour (Austria)
Kon-Tiki (Norway)
No (Chile)
A Royal Affair (Denmark)
War Witch (Canada)
Who Will and Should Win: Amour wins in a landslide. Usually this category is pretty cut-and-dry because America can only really handle one big foreign film a year (Side note: I'm very surprised that The Intouchables didn't get nominated, as it is the only other foreign film that got really any attention this year). I'm not saying that Amour doesn't deserve the hype it's gotten, in fact there are a ton of foreign films that should get way more attention that they do. But unfortunately most Americans don't go to the movies to read, so Amour it is.
Best Cinematography
Roger Deakins, Skyfall
Janusz Kaminski, Lincoln
Seamus McGarvey, Anna Karenina
Claudio Miranda, Life Of Pi
Robert Richardson, Django Unchained
Who Should Win: OK guys, I know I said I would try to not talk about The Master that much, but give me a break for this one. The cinematography in The Master was UNBELIEVABLE. Every shot in the movie was unique and breathtaking in it's own way and I refuse to believe that any of these scrub movies were any better. Paul Thomas Anderson has become such a force not only because of the gripping stories but because he is able to make them visually unlike anything else coming out of Hollywood (big shout out to Mihai M?laimare for holding it down as cinematographer on the set). Seriously, look at these stills from the film and tell me it doesn't embarrass every movie nominated:
Everyone else out there is making movies, Paul Thomas Anderson makes cinema.
Who Will Win: Probably Skyfall. I didn't see it but every else was talking non-stop about it so yeah. Django was super dope too, but this is the kind of award that they're going to give to Skyfall.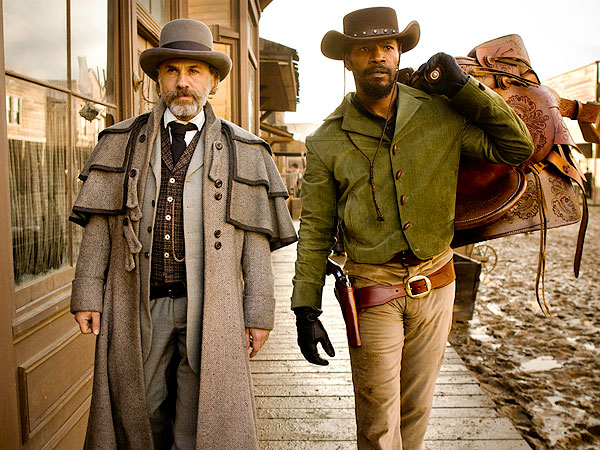 Best Original Song
"Before My Time," Chasing Ice (music and lyric by J. Ralph)
"Everybody Needs A Best Friend,"Ted (music by Walter Murphy; lyric by Seth MacFarlane)
"Pi's Lullaby," Life Of Pi (music by Mychael Danna; lyric by Bombay Jayashri)
"Skyfall," Skyfall (music and lyric by Adele Adkins and Paul Epworth)
"Suddenly," Les Misérables (music by Claude-Michel Schönberg; lyric by Herbert Kretzmer and Alain Boublil)
Who Should Win: I'm starting to think that the Academy is going out of their way really yank my chain, cause they really messed up on this one. Fine, the Adele song was pretty good and everyone knew the one new song for the Les Mis movie was gonna get a nod, but they completely skipped over two movies with a plethora of incredible songs to chose from.
From Django Unchained:
"Who Did That to You?" by John Legend - This song is non-stop and soulful enough to make Adele go crying back to that ex she keeps talking about.
"100 Black Coffins" by Rick Ross - What Happened? The Academy usually loves nominating rap song (probablu because they come around so rarely and the Oscars love to seem like they're "hip" and "cool" and "with it" even though they're so totally not).
From Wreck-It Ralph:
"Sugar Rush" by AKB48 - 100% Honesty, I have linked the sped-up version of the song because I think that it is was more awesome than the normal one, but correct speed or not this song provides the only sound that would do an animated candy-themed Japanese racing game justice.
"When Can I See You Again" by Owl City - Calm Down. I know what you're thinking...did Slam really just say that he thinks that the Academy should have nominated Owl City for an Oscar? Well yes and no. I know that it wouldn't and shouldn't get nominated but personally I kind of liked it. So let the haters hate and I'm going to go bump some Owl City and AKB48.
I think that any of the songs I just posted (OK, except for the Owl City one) could, and should have been nominated. Especially the John Legend one, that song is awesome and probably should have won this category.
Who Will Win: Either Adele or the Les Mis song and no one will be surprised.
Best Documentary Feature
5 Broken Cameras
The Gatekeepers
How To Survive A Plague
The Invisible War
Searching For Sugar Man
Who Will and Should Win: Best documentary is always a bit of a toss-up depending on how the voters feel about each film's focus, but this year I think it's a tight race between 5 Broken Cameras and How to Survive a Plague. Both are incredibly well made films that are both intriguing and powerful (partially due to the subject matter; 5BC is a first-hand account of non-violent resistance a village in the West Bank and their attempt to stop Israeli settlements while HSP is about the early years of the AIDS epidemic). I would definitely recommend grabbing both of them on DVD and giving them a watch when you have the chance.
Well, that about wraps it up for my 2013 Oscar Preview. I know I didn't get to all the awards, but who cares about Costumes or Sound Editing anyway? (Screenplay awards should go to Quentin Tarantino for Django Unchained and David O. Russell for Silver Linings Playbook (Original and Adapted, respectively) in my opinion, but let's not get too into that (ANOTHER The Master snub, but I guess no one cares about silly little PAUL THOMAS ANDERSON AND HIS CINEMATIC MASTERPIECES))
Now we can all sit back and relax until Feb. 24th when the Oscars are actually given out.
~Slam