One of my life goals is to see all the Major League Baseball stadiums and as many of the minor league and college stadiums as well. From the small colleges where I played baseball, to minor league stadiums seeing a few of my friends in the Red Sox farm system play, and obviously all the MLB stadiums. This past spring and summer I was fortunate enough to see plenty of baseball, some of the stadiums/fields are seen in the pictures below!!! I've watched a game at 11 of 30 MLB stadiums, about 10 minor league stadiums, and I honestly can't count the number of college fields because I've seen and played in many.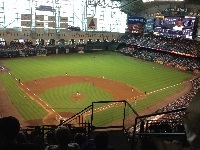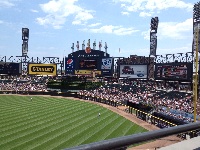 Personally, I think one of the best parts of admissions work is travel season. I'm currently planning high school visits and evening presentations, but I can't help but reflect on my personal travel this summer. Blogosphere, I'll give you more details on my travel throughout the South (South Carolina all the way to Louisiana) and Southern California next week. For now, I'll leave you with a picture and a question. This is one of the best views I've seen on a college baseball field!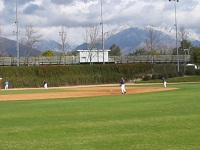 If anyone wants to suggest a stadium(s) to visit next summer, I'd love to hear your thoughts???