Meet the Interns
The Tufts Diversity Interns are a group of students who work closely with the Admissions Office to plan on-campus programming, create web content, and provide other opportunities for prospective students to learn about the many facets of diversity represented here. The interns serve as a bridge between the Admissions Office and the student body to foster an inclusive campus community.
Hometown: Baltimore, MD
Perspective Majors: Music and Community Health
Activities: Caribbean Student Organization, Black Men's Group, Tufts S-Factor
By the end of my junior year of high school, I had absolutely no idea of where I wanted to go to college. However, I knew for sure that I wanted to go to a place where I didn't have to deal with snow or any kind of cold weather. Ironically, in August of 2014 I boarded a bus for a week-long, Baltimore City sponsored tour of New England colleges. Towards the middle of the tour, we spent the latter half of a day at a school with a name I never heard of: Tufts University. I walked into Dowling Hall feeling like the last thing I wanted to sit through was another boring information session, but just mere minutes after the admissions counselor began to speak I knew I found the school that was different from all the others. The rest of the New England college tour was a blur because I knew which school would be at the top of my list. To this day, the happiest moment of my life is the moment I read "congratulations" at the top of my acceptance letter, and I hope that Tufts has many more happy moments in store for me.
Evelyn Ocampo '17
Hometown: Chicago, IL
Major: Child Study and Human Development
Minor: Latino Studies
Activities: BLAST Scholar, ENVY All-Female Step Team, Leonard Carmichael Society for Community Service- Special Friends, Association of Latin American Students (ALAS), Latinas Promoviendo Comunidad/ Lambda Pi Chi Sorority, Inc.
A moment that screams 'This is Tufts' revolves around midterm week. One late night at the Latino Center I was silently stressing about writing my first twelve page college paper. I had no idea where to begin writing. People saw me flipping through notes for hours with no words on my computer screen and stepped in to help. Although everyone was swamped with work of their own, they talked me through the nerves and even made me a cup of tea to ease my stress. They were able to get my mind off of the work for a short period of time, which ultimately allowed me to look at my notes with a fresh pair of eyes and write the paper with ease. This moment showed me that even though we all have work of our own, the sense of community prevails to make sure that everyone succeeds.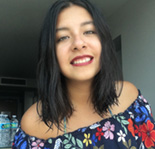 Hillary Rodriguez '19
Hometown: Brooklyn, NY
Major: American Studies
Minor: Latino Studies
Activities: United for Immigrant Justice, Association of Latin American Students (ALAS), Tufts La Salsa, Tisch Scholar, BLAST Scholar, Event Staff, Diversity Admissions Council
I was born and raised in Brooklyn, NY. I wear NYC on my sleeve. I come from a family of 9, which includes our two cats, of course. Although we live in the city, my parents are farmers so naturally that brings up a lot of questions. It was in a long conversation about everything and nothing on the rooftop of Tisch with my Voices scavenger hunt group that I decided Tufts was the place for me. Everything felt exactly as it should be. As I embark on my second year here, I reflect on all the changes I've gone through. From hair cut and glasses to majors and interests, I have accepted change with open arms. I know I will leave this place as the person I've always intended on becoming--even if the high school version of myself didn't see the complete vision. I am thankful for the community I have formed here at Tufts that allows me to be myself in every way. My experience here wouldn't be the same without my supportive chosen family.