So 6 days (so far), 6 (notable) meals. Ready?
--
Day 1
Since my dad had a meeting in Minneapolis around the same time as my Spring Break, he decided to travel down (up) to Boston to visit me, bring me a care package, and feed me yummy foods.
Seeing as he is a typical Asian dad, the amount of days he can go through without ingesting Chinese food is limited. Evidently, our first meal in Boston together is at his (our) favorite Cantonese restaurant in Chinatown called Peach Farm (小桃园). The density and coziness of the tables together remind me of the cramped-ness of Hong Kong, and immediately I was home. Given it's high rankings on Yelp, I had high expectations, which the restaurant successfully exceeded. We got a table by the door so we didn't have to wait, but there was quite a line for others. My dad and I splurged on everything, calamari, fresh steam fish, clay-pot chicken, and baby greens. Each plate was overly proportioned, which was great because I ended up doggy bagging most of it for a second lunch. The waiting staff all spoke Cantonese, so I felt right at home, with the kitchen bustling and fire roaring.
I stuffed my face, and my stomach. If you can't tell from the amount of food, I really miss Hong Kong.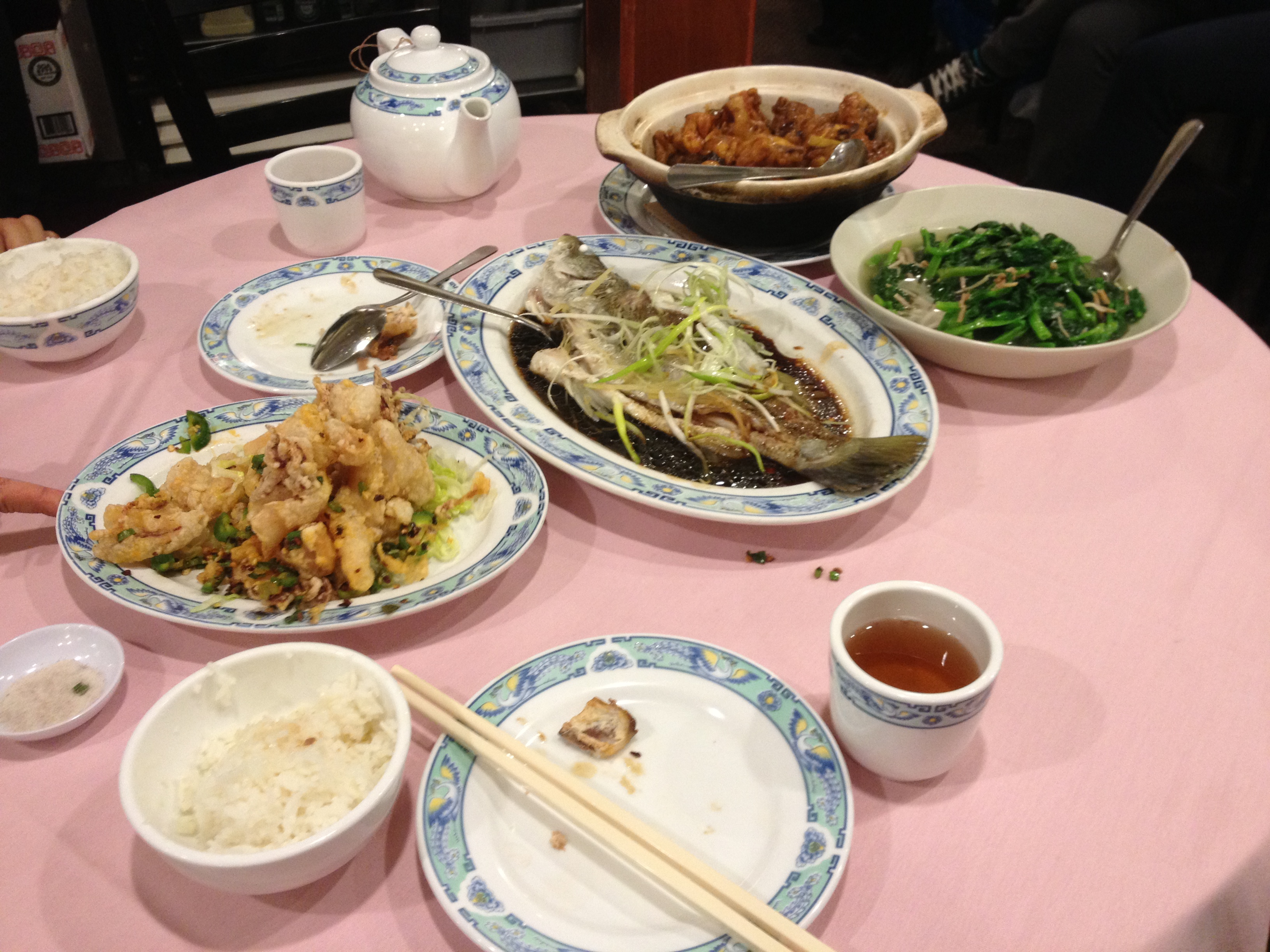 Day 2
For my dad's second day in Boston, he decided to treat me out for sushi at Haru, right outside of the Prudential center. Granted anything around Prudential is generally expensive, but he was hungry and didn't want to walk any further so we sat and splurged. It was a Friday afternoon, but surprisingly, there wasn't much going on around nor were there many patrons in the restaurant. The place itself was cozy but there was nothing outstanding about the food (in my opinion, it wasn't worth the price). That being said, it was the first time I tried strawberry and salmon together on a roll; it made for a very interesting combination that I certainly recommend.
Anyhow, I'm not complaining. I got sushi.
Seeing my dad was in town, my friends all wanted to meet him knowing this may be a rare opportunity. We gathered in Chinatown (once again) for hot pot at Shabu Zen. Because they didn't take any reservations, we had to arrive early and promptly (which was not really necessary seeing as half the restaurant was still empty when they told us we wouldn't be able to get a table). Our seat was cramped for a group of seven and uncooked food was practically spilling over the sides. One of my friends has never had hotpot before so it was interesting to watch him maneuver the boiling pot of chicken broth.
If you ever do come, I highly recommend getting the US Prime Beef set (A5) and ask them for additional sesame sauce (that comes free). It'll make your meal just that much better. Again, everyone here spoke Cantonese so it just made ordering even more fun.
The level of sarcasm that was generated in conversation was overwhelming, and it was really heartwarming to see my dad get along so well with my friends. Because I'm an only child, my parents have been overly worried about me since I've been to college so it was nice for me to be able to show them "hey, I'm okay because I kinda have awesome friends".
(Let me know, do I look like my dad? He's the only adult looking person at the table.)
Day 3
…was the day of EXPLORATION! For a long time, I've wanted to walk along the Charles (or get off at Charles/MGH and walk around there). After going to the Museum of Science (GO! For the child burning inside of you), my (only) friend who stayed during break, Yuki, and I walked around to find (what-we-presumed-to-be) a family-owned Italian restaurant, East Side Bar and Grille, for Saint Patty's day. Granted, the only knowledge I have about Saint Patrick's day is that you're suppose to wear green, and that a lot of people get drunk, so I was surprised to learn that there were holiday foods. He ordered corned beef (which I've never seen before), and the portion was definitely enough to feed two. We got shrimp scampi to share (the sauce…is to die for…I would peel and shuck all the garlic necessary to make this butter sauce as delicious as it was), and I ordered steak tips with broccoli.
The reviews were right. The recommendations were right. Although they said we would have a half an hour wait, we were seated in 5. Everyone was so accommodating, the atmosphere was bubbling, and you could tell that it was a neighborhood restaurant because people, young and old, were all gathered here for beer and dinner.
Next time I go to the Museum of Science, I know where I'm getting dinner.
Day 4
By day 4, I became a lazy person and decided to order in. Everyone, meet my new best friend www.foodler.com. It is, essentially, a massive database of menus and cooperating restaurants where you can order online, get foodler points, find discounts, and figure out what restaurants deliver to you. I was craving some Thai food; I ordered from Sugar and Spice in Porter Square. All the reviews raved about the Druken Noodles and Moo Yang, and that is exactly what I ordered.
Although I don't have much to compare it to, nor do I have a native palette, Sugar and Spice definitely satisfied every craving I had for complex flavors and spiciness. Lunch came out to be around $20, but the portions were so big that I had enough for dinner as well. Two-meals-in-one=every college kids' dream.
Day 5 (I ate instant food, nothing substantial happened. Sad face)
Day 6
Specialty sushi. I have to say, this is probably my favorite combination of S-words put together. Having worked hard all day, Yuki and I decided we needed a break and treat ourselves to delicious-ness. After I food hunted on the interweb for some time, we found CaféSushi, a laid-back sushi place in Harvard Square that had a very interesting menu. While he opted for a more traditional plate of sashimi, I went all out and tried their Signature Sampler and ordered two rolls. Never had I thought that basil and tomato would work on Hamachi nigiri or that asparagus and spicy tuna paired with lime and cilantro could be that orgasmic (this is the most accurate word I can find).
What made it better, was that this all came at an affordable price! Granted, the tab was a little more than average, but yumminess doesn't come cheap. This yumminess came cheap enough.
Though I thought I've already stuffed myself silly with sushi, we saw Zinneken's as we were walking towards the T; they sold Belgian Waffles, and my salivary glands began to churn again. I probably gained the weight of my foot that day, but my salivary glands did not deceive me. I was happy, so so so HAPPY.
:D
--
Okay, so that's been my Spring Break so far. A lot of eating, a lot of sleeping, a lot of (attempting) to work. It was a much-needed break, and I'm so glad that I choose to stay here and explore. I already have a list of restaurants I still want to try.
Anyone care to join me? (:
Sorry, long post, but food. I'm sure you're not that bored, or if you are, then you're probably hungry now too. As you stare (or eat with your eyes), I shall return to hibernating for the remainder of my days to prepare for the dawn of midterms!
HAPPY SPRING EVERYONE!