After having my major declaration form sitting on my desk for a few weeks, I finally declared: Astrophysics! *cue confetti cannons* I'm so excited to pursue this field of physics for two reasons
It's awesome and never ending. There are so many branches of astrophysics one could go in to from studying the composition of stars to dark matter to black holes to habitable planets.
I love seeing people's reaction when I tell them I'm majoring in astrophysics: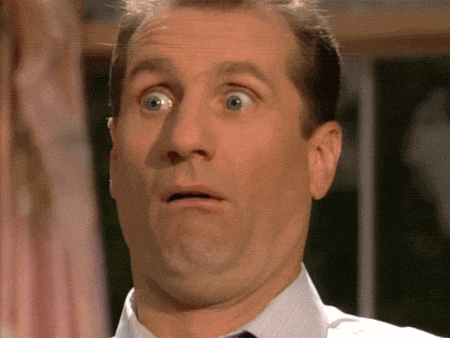 But why was I so scared to declare my major in the first place? Why did I let it sit on my desk for two weeks before finally deciding to get it signed? Why didn't I bring in the form to my major adviser the next day and just get it over with? Because it decides my future! What if I was making the wrong choice?
The astrophysics department here at Tufts is not a large department. We have two professors and only a handful of other undergraduate astrophysics majors. So, naturally, when I went to get my adviser to sign my major declaration form, I was so excited. But, my major advisor said something along the lines of
"It's only a piece of paper. You can always change it."
And he was right. I never thought about it that way, but declaring your major isn't as scary as you probably think it is. (You'll understand this when you hand in your major declaration form to student services and they say "Thanks, that's all" and you leave with this feeling like "I just decided my future and they didn't even congratulate me.") Sure, it decides the courses you'll take for the rest of the time in college, but that's about it. At the end of the day, you walk away from four years of college with a very expensive piece of paper saying you studied such-and-such and a college education that will hopefully get you the job you want in the "real world". And in all reality, nowadays one doesn't even need to pursue a field of employment that had anything to do with one's major. It helps if you have some background knowledge on the field, but it isn't completely necessary because one can always learn on the job.
Declaring one's major isn't something to fret about. As the feature image says, "It's kind of a big deal" and I believe that is completely true. It's only kind of a big deal because you become part of the department you are majoring in, but you can always leave and become part of another. Declaring one's major is relieving. You no longer have to have a bjillion Excel spreadsheets with all the possible majors you might want laid out, planning out each semester with your major requirements, distribution requirements, and any other electives you want to take. (If you haven't done this, I recommend doing it. That's how I decided to leave the engineering school and enroll in the liberal arts school. Looking ahead, I wasn't as excited about taking the engineering courses as I was about taking more liberal arts courses such as English, Classics courses, etc.)
And! You finally have an adviser in your field that is there to help you and make sure you make it out of college alive! I'm lucky to be in a small department where my major adviser does not have a lot of advisees and he acts more like a concerned parent than my adviser/professor. I'm thankful to be at Tufts and have this kind of situation, compared to other schools with larger astrophysics programs.
As a concluding point, I want to say: don't except confetti cannons to go off after you declare your major unless you bring them yourself. It's a relief and you can always change it.
Now onto bigger and harder questions: What should I double major in?