Hello everyone! Welcome back to our series, "Why Tufts Engineering?" Today, we are looking back at my interview with Ashley Smith, a former Computer Science major who is now working as a Software Engineer for Target. At Tufts, Ashley was a part of the Society of Women in Engineering, joined the Tufts sailing team as a walk-on, and competed in ballroom competitions alongside the Tufts ballroom team.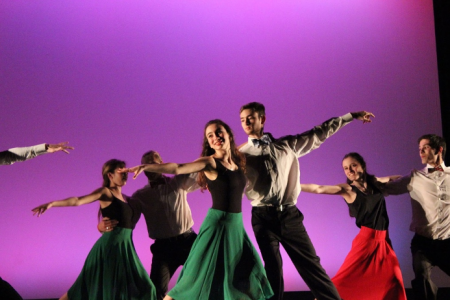 Hi Ashley! How was your engineering experience like before coming to Tufts? Were you already exposed to engineering in your high school?
I went to a high school that specialized in engineering and architecture. In high school, I had the opportunity to work with Autocad and Inventor and do some programming in a scripty language similar to Javascript. I also got to design and build a chair and my "dream house" (well, a prototype of it). I enjoyed building things and I also loved math and science, specifically physics. So, I figured Engineering was the way to go. I went into Tufts undecided, having no idea exactly what I wanted to do.
How was your first semester in the School of Engineering?
My first semester, I took a class that specialized in Biomedical Engineering. I met with my pre-major advisor and told him that I have no idea what I want to major in, but that I really want to study abroad. He told me that I can definitely make that happen if I start planning early. And he told me to just pick classes that sound interesting to me, so that's what I did! By taking a Biomedical Engineering class, I was able to eliminate that as a possible major for me. The class was interesting, but I decided it wasn't for me.
Were there any classes that you enjoyed or struggled with?
Honestly, prior to college, I had never struggled much with any subject in school, especially nothing math or science related, so I went in a bit cocky. My first semester, I took multivariable calculus, despite recommendations not to and I also took 5 classes despite recommendations to "ease in" and just take 4. I did struggle with multivariable calc in college because I wasn't used to having to take so much of the initiative for my own learning. It's a transition from high school. After I got a 70 on the first midterm, I realized I needed to hunker down and I ended up doing well in the class, but it was definitely a rude awakening. I also struggled with the biomedical engineering class. I had never gotten such low grades and I didn't know what to do. But I talked to the professors one on one and we figured out ways for me to improve, and it ended up being fine.
What made you decide on your major, Computer Science?
My second semester at Tufts I decided to take Comp 11 (Intro to Computer Science) because there was a lot of chatter around campus that it was a fun class. And I enjoyed it a lot! I was also taking Electricity and Magnetism that semester and enjoying that a lot too. When it came time to choose a major at the end of my first year, I had it narrowed down to Electrical Engineering, Mechanical Engineering, Computer Engineering, and Computer Science. Honestly, it was a conversation with my friend where she reminded me how much I was enjoying Comp 11 that urged me to declare Computer Science as my major.
What was the engineering community like?
I would describe it as a community who works hard together, struggles together, and grows together. We would bond over the struggle of our classes that we went through together.
You mentioned earlier that you wanted to study abroad as an engineer. Did you have the opportunity to do so? Where did you go?
I did have the opportunity to study abroad! I went on a non-tufts program to Bologna, Italy where I studied at the University of Bologna. I actually took some computer science classes there, which were taught in Italian and counted both toward my Computer Science major and toward my Italian minor! It was an awesome experience.
What were some internships, networking events, symposiums that you attended?
I attended a Women in Tech Symposium at Target my sophomore year. I also attended several Hackathons at Tufts which were awesome networking events!
What is your current profession?
I am currently working as a software engineer for Target corporate. I work on the Ship from Store app that the team members use to fulfill online orders. I'm working mostly in Java and I'm really enjoying it. It's everything I could have asked for in a job straight out of college!
________________________________________
Thank you, Ashley! Stay tuned for next week's blog on Kristina Chu, a former environmental science major who works in environmental and risk sciences consulting.