The first members of our Class of 2017 were "born" Thursday afternoon as we released Early Decision results at 3:05 PM. I'm happy to report it was a healthy delivery (i.e., no database hiccups) as 362 baby Jumbos received an offer to join the herd. And then my team in Bendetson Hall sat back and waited for the celebration to erupt.
Here's a timeline of the roll-out:
A minute passed. The first tweet (an editorial aside about "tweets": the AP style guide says lowercase, Twitter likes it capitalized…such a social media conundrum…) hit the Twitterverse as a California engineer announced

His ALL CAPS blast of excitement has been re-tweeted three times and highlighted as a favorite by 39 others.
It took 14 minutes for the first ED Jumbo to join the Class of 2017 group on Facebook. (Twitter trumps Facebook for the first time on that one.) By 3:24 (all times are Eastern Standard), a mere nineteen minutes after we released decisions, a quarter of the ED applicants had viewed their status on-line. (Technology still dazzles me with its quick efficiency.)
And then it happened. A few minutes after 4 o'clock, there was a (virtual) sprint to the on-line deposit form as two people enrolled in the Class of '17 within 61 seconds of one another! (Now that's an amazing race!) This year's gold medalist in the ED deposit sprint goes to the mechanical engineer from Bedford, Mass., who submitted his enrollment form at 4:05:11. And that makes him the very first member of the Class of 2017. Panting behind him was the concert mistress and lobsterwoman from Maine who logged in at 4:06:11. (Interestingly, it's the first time in three years that our first enrollee is not a Turk.)
Freshman #3, an environmentalist from suburban Boston, arrived at 4:18. A nature buff with a palpable green impulse, he tracks spiders with GPS and has done research studies on tarantulas and snakes. (Attention future roommates: make sure you ask him what/who he plans to bring with him to campus…)
4:33 brings the female biochemist from New Jersey described by her teachers as "a deep thinker."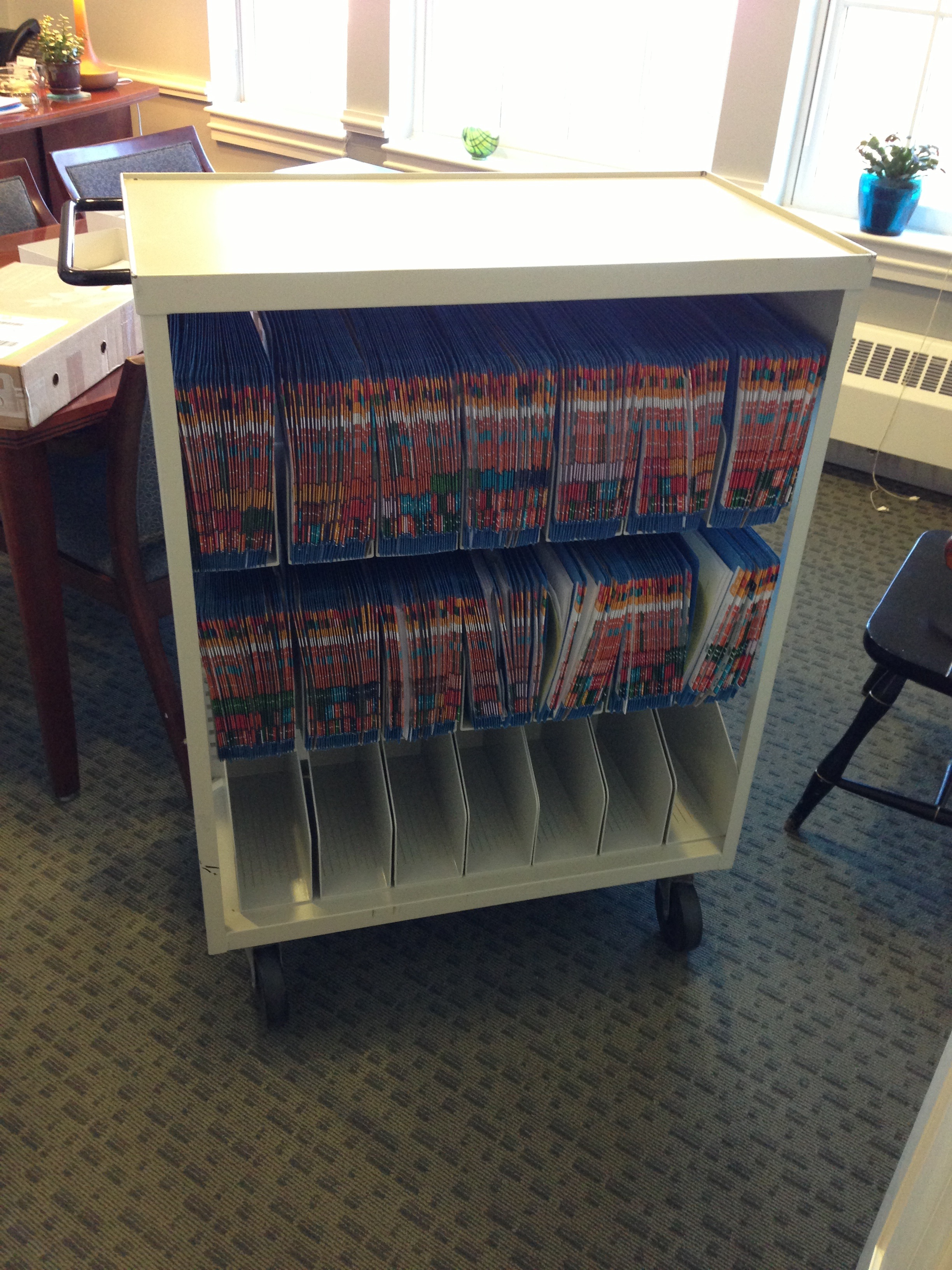 A half hour ticks by before our next freshman emerges at 5:07. Say hello to the international relations buff from Fairfield County who "gets really excited about airplanes." That passion makes sense: the global types usually travel a lot. And, as the office closed for the day, he completes the quintet of Jumbos who comprised the new class. But here's the thing: the internet never sleeps! The Admissions Office might close but our on-line enrollment form is open 24/7. The deposits kept coming!
Mainer #2 showed up at 5:17 while I was driving home from work. (Traffic was awful.) This one is a chemical engineer who moonlights as a boat inspector searching for invasive species. He also co-founded his school's chemistry club and plays alto sax in the Portland Wind Ensemble. (Now that's well-rounded!)

New Jersey ties Maine at 5:53 as the second English major in a row claims her seat. This wordsmith edits the opinion page of her school newspaper as well as the lit mag and does freelance reporting for the local paper as well. (I see the Tufts Daily in her future.) And why did she pick Tufts as her binding ED option? "Tufts is the brainchild of straight-laced intellectuals and doodling dreamers," she said. "It's a place where I can study English without a snobby vibe." (Truth. We're not snobby.)Two minutes later, Illinois was in the house. The gal from the Land of Lincoln (go see the film!) is a prospective English major who stockpiles old magazines—especially Teen Vogue—in her bedroom because they remind her of what she was like when the issues were new. (Attention future roommates: Make sure she brings some bookshelves.)
Another engineer appears at 6:17. This one, a Tufts legacy thinking about civil engineering, hails from "a typical Long Island town" where she is president of B'nai B'rith at her high school.
The tenth seat went to a San Francisco Bay-area volleyball captain at 6:48. Our coach reported that the prospective psych major "killed it" at the California State championships. (NESCAC beware.)
Another hour passed. (Dinner time?) At 7:46, we welcomed a Homecoming Queen, Girl Scout Gold Award winner and LGBT Alliance President from Dallas at 7:46. She is undecided about her major but "really loves" the Ex College.
At 9:17, Jersey takes the early lead with three freshmen. Say hello to the second member of the '17 volleyball team. This one is 1st Team All State and thinks she'll major in math. She also volunteers on a river clean-up crew five hours a week. There were a dozen freshmen by 8:43. The 12th one in is a tennis-playing, pre-med, legacy salutatorian from Springfield, Mass.
Hello, Florida! A violinist from Tampa enrolled at 10:05. She's "obsessed" with Gone with the Wind.
I'm sure I was asleep as the fourth frosh from the Garden State arrived at 10:55. International relations and sociology intrigue her but her supplemental short essay began "I never thought I'd dream of cow fistulas." (Reading applications never gets boring.)
Six minutes later, we received the deposit from a gal from Philly with "a passion for passion," followed by a glass-blowing gay chemist from Seattle at 12:43 AM. "I watch too much baseball," #17 told us. (He gets a special prize for being the seventeenth member of the Class of '17.)
Finally, at 3:08 AM, we tallied the last deposit from the first overnight. It's from an Obama campaign volunteer and cross country captain from Santa Monica whose "hilarious" (per the two admissions readers) essay chronicled her daily battles with her unruly hair, proof that any topic can work if it's well-written!