7:44a.m.: I roll out of my house half asleep
7:50a.m.: I walk into the polling place and see Yulia walking in. We exchange pleasantries and realize that we're in for the long haul.
7:53a.m.: We see my new roommate waiting in line. He says "I tried to text you this morning, but realized that I didn't have your phone number." I thought to myself: we do share a wall, he could have just knocked on my door. But then I thought, well I'm not the nicest person in the morning, so maybe he made the right decision???
8:10a.m.: We've reached the first of 3 bends in the line!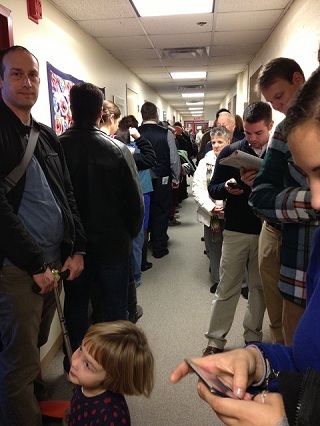 8:14a.m.: The cute 3 year old girl in the picture above says "mommy there are so many people here, I'm going to count them all." There is a collective sigh and a few "awww, how cute(s)" in the crowd. She begins "one, two, three, five, six… twelve, thirteen, fourteen, sixteen, seventeen, there are too many people in line to count daddy." I nearly hit the floor from laughing so much.
8:55a.m.: We've reached the stairs… moving up in the world! Yulia and I share some hi-fives!!!
9:10a.m.: We're outside of the polling door. Yulia gives a little screech of happiness that this is ABOUT TO HAPPEN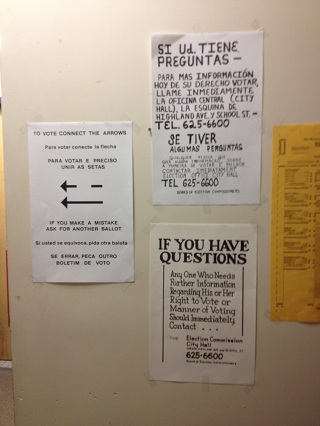 9:12a.m. I see the above sign and think what a beautiful country we live in… directions in English and Spanish!!!
9:20a.m. We've both voted for our candidates and questions (equivalent of a proposition in other states) and received our stickers- which is probably the best badge of honor for this day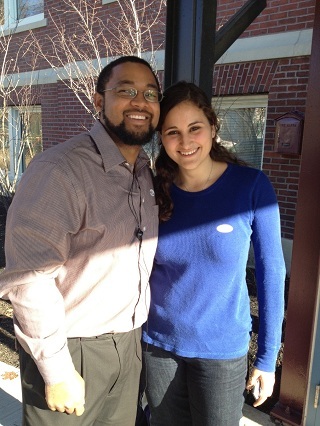 9:23a.m. We take the above picture and Yulia sends another picture to her dad with a text saying "I VOTED!!!!"
9:40a.m. I'm in the office and starting this blog