Imagine the delight when you walk into a room expecting to see 50-75 eager students and parents for our application workshop, but you actually see 90 (Greenville, SC), 250 (Charleston, SC) and 150+ (New Orleans, LA). While it's informative for you, it's quite a blast for me because I get to meet new friends, get some awesome food recommendations, and show that admissions counselors have personalities too (if you've seen me talk, remember the "THIS IS SPARTA" comment!!! Admittedly, I stole the thought from Naiara Souto in our office)!
During the workshop we train you how to read an application as if you were the selective college admissions officer. We discuss the different pieces of your application, how they paint a picture of who you are, then we get to the fun part... COMMITTEE! If you didn't know, we have two people read your application, then we go into committee, in which admissions officers sit around a table and discuss your application. For the workshop, we use the essential pieces of six Tufts applicants, and you (and everyone else in the audience) become the admissions committee. You get to make arguments for why you think certain students should be admitted or denied... You hear some amazing arguments during these workshops, so I thought I'd share some arguments and observations with you.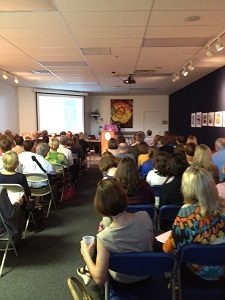 In Greenville (picture above), there was a young lady in the front row who was wearing some awesome peace sign earrings and by the end of the presentation everyone knew her name. Or the college access counselor whose face lit up when she found out her favorite applicant was a first generation college student.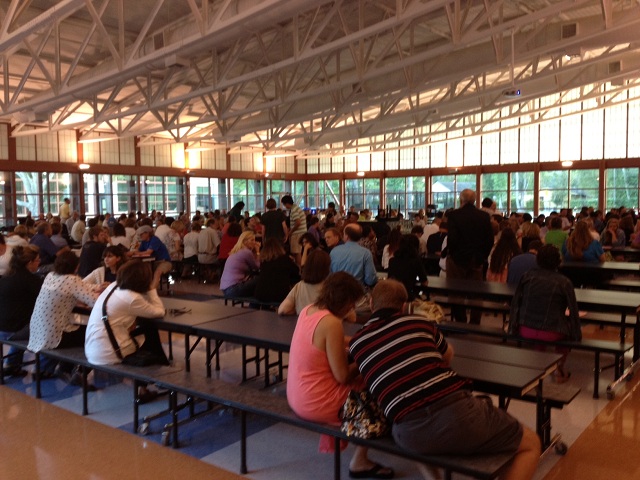 In Charleston (picture above), we had the math/science guy who made a strong argument for why math and science are the wave of the future. I also heard arguments from parents like, "If you can babysit my kids, I'd trust that [student name] should be admitted to your school," and another parent who said, "LET'S BE REAL, that girl's numbers are way too good to be denied."
Finally, there was New Orleans (sorry, I didn't take a picture… if you have one send it to me and I'll post it), where we packed half of a basketball court. There were the five young ladies who stuck with one candidate from start to finish and multiple high school college counselors all got involved in the action.
Orange County and Birmingham, I'm coming to meet more friends soon. For other cities near you click here, enter your email and click "RSVP to an Off Campus Event."
Update: Orange County was awesome too. I absolutely loved the parent who said, "minus the Olympic gold medal, every parent wishes that [student name] was their son or daughter." Or the email I just received regarding me showing off some of my dance moves when I talk about the "Tricky Tango" of the Data and Voice pieces of your application: "Just wanted to let you know how much we enjoyed your presentation... Very informative and entertaining. My daughter picked up some great advice on college applications. Also, I had some career advice for you, just in case you get tired of your current job...Check this out...http://www.fox.com/dance/." I thought that was hilarious feedback.