I arrived in Madrid, safe and sound, this past Friday, and I ABSOLUTELY LOVE IT HERE. My host family is absolutely amazing, the food is so delicious and flavorful, the city is STUNNING, and having a glass of sangria with lunch is not too shabby :p
I don't have a lot of time to write (I'm going out for tapas tonight!), but I had to share something that I was not expecting but I'm so very pleasantly surprised with since my arrival in Madrid. I've been here for two days and I have fallen IN LOVE with a bunch of Jumbos on my program.
Jumbos, for the most part, are a quirky, fun, intelligent breed of awesome people. But by junior year, it seems like most, if not all, of us get a severe case of tunnel vision in which we ignore 90% of the people we don't know or completely ignore everyone outside of our circle of close-ish friends. We do this under the assumption that everyone outside of this circle either sucks or simply won't connect with us.
That mentality is COMPLETELY WRONG. And my buds at Tufts in Madrid have shown me just that. It's been like freshman orientation all over again, with everyone making friends with our entire group and making plans that include us all. It's a beautiful thing.
Today, we had an adorable little breakfast with our program friends and host families, and I sat with a new friend from the program, my host mom, his host brother, and his host brother's girlfriend. We laughed, joked, and went halfsies on a tortillita, a PANCAKE with whipped cream and chocolate syrup (these Madrileños don't really watch what they eat, man). Halfway through the brunch, my host mom asked me if we were friends from before and could not believe we had met two days ago! I realized it was pretty crazy, but true, and am now extremely glad I'm in a program with my Jumbos, having my tunnel vision removed by the best cure: a semester in Madrid :p
Needless to say, I'm the happiest, luckiest girl in the world right now!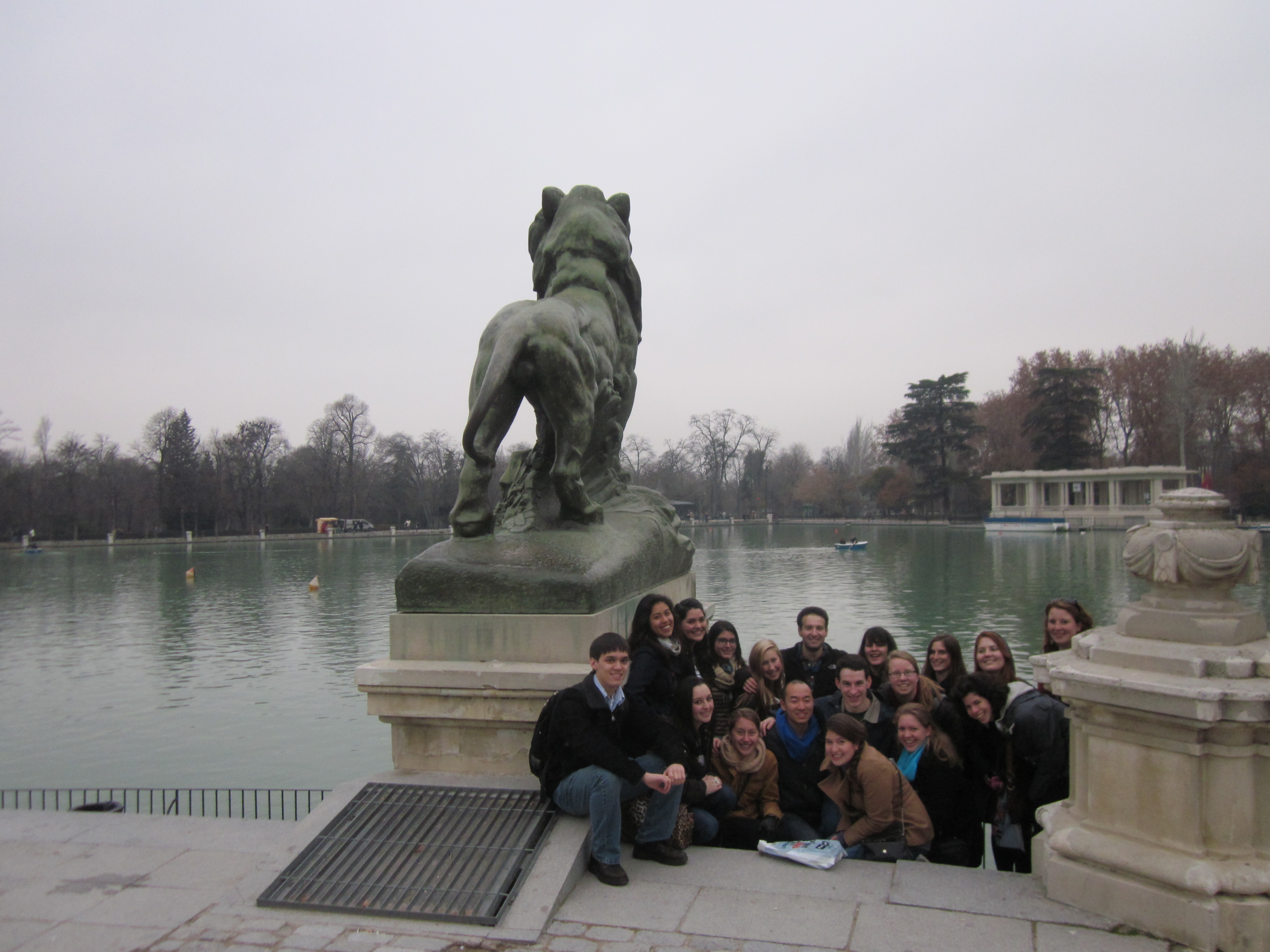 Here we are in Retiro, a park near my new Spanish home!