Information for International Applicants
The name Tufts is synonymous with globalism. Our international community comprises 16 percent of our undergraduate population. Half of this group consists of citizens from more than 70 countries around the world. The other half reflects students who hold multiple citizenships and those who are American according to their passports but have infrequently or never lived in this country. There is also a significant group on this campus that chose Tufts because they were attracted to one of our outstanding opportunities to study in a foreign country or to learn or perfect one of fifteen languages offered, or simply to be part of this global community.
In our Admissions Office, there is a team dedicated to finding students that fit one of the categories above and we travel the globe to do so. We can't always come to your school but we try our best to come to your part of the world. We realize that it's very difficult for most of you to experience Tufts in person before you apply, but if you plan on visiting us here in Medford, please let us know. We appreciate your visit and we hope to meet you when you're on campus. Either way, please feel free to e-mail us at any time. We hope to communicate with and hopefully meet you soon.
Helpful Links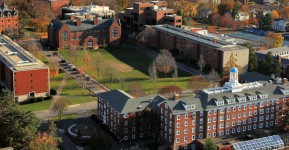 Take a Virtual Tour
The Next Best Thing to Visiting in Person
Design Your Own Tour