The Common Application
Many colleges and universities use the Common Application to help applicants streamline the process. Tufts uses it, too, with a few custom additions - namely, the Tufts writing supplement and an optional alumni interview - to help the admissions officers get to know you better.
Applying Online
This website includes information for every type of applicant. Click through for specific application requirements for:
When you're ready, apply online.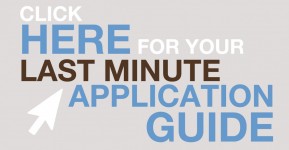 The Procrastinators Guide to Admissions
The deadline is almost here! Get some last-minute advice.
Read More
Sign up for TAMS
Tufts Application Management System
Check the status of your application.
Log in!
Sign up for TAC
Tufts Admissions Connection
Learn more about admissions events, plan your visit, and get on our mailing list.
Register Now
Previous
Next
Applying by Mail
While we prefer that applicants apply online, we understand that certain circumstances make that impossible. So we make PDFs available that can be completed in hard copy and mailed to Tufts Admissions. Download printable forms.